Unique experimental plant growth facility secures £1m grant
---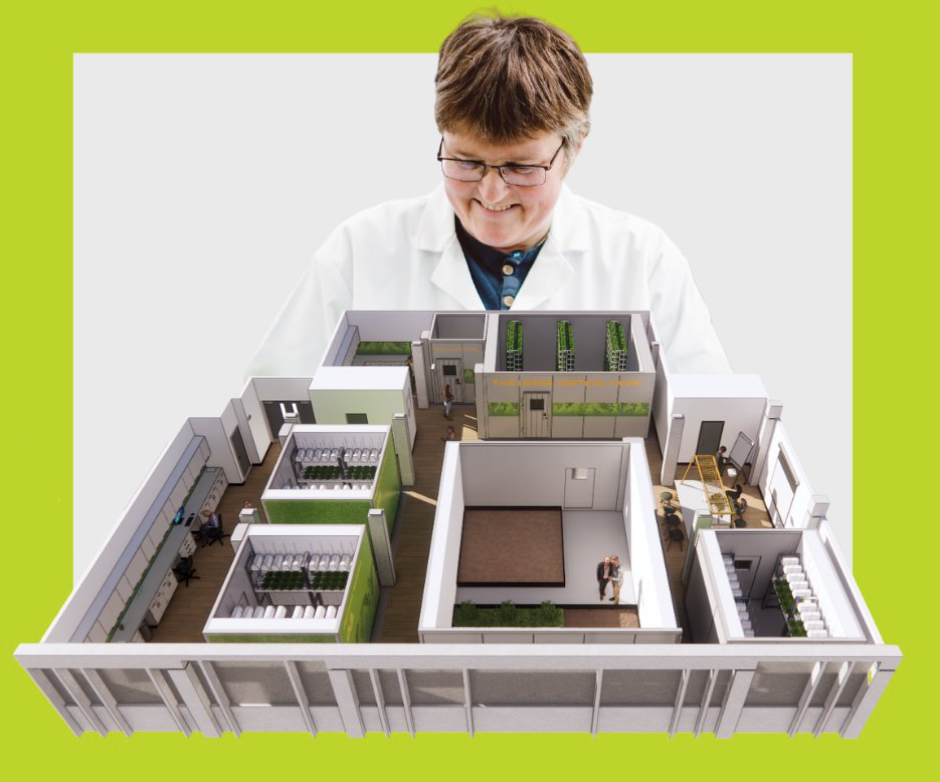 World-leading plant productivity research at the University of Essex has received a major funding boost to create a new state-of-the-art indoor crop growth facility.
Today, the Wolfson Foundation has pledged £1 million to support the development of a unique Smart Technology Experimental Plant Suite (STEPS) at Essex's Colchester Campus to future-proof crop production in a changing world.
With one of the longest established whole plant physiology and photosynthesis groups in the UK, Essex has long been at the forefront of plant productivity research.
Building on these existing strengths, the £3.5million facility will be able to grow plants in a suite of fully automated and adjustable environments, including dynamic tuneable lighting systems capable of replicating natural outdoor environments in real time, with fine-scale regulation of temperature, humidity, water availability and CO2 concentrations.
This will be underpinned by advanced technology, artificial intelligence (AI), environmental sensors and water management systems. There will also be an experimental commercial-standard vertical farm that will further expand Essex's research, expertise and knowledge in indoor plant growth.
With the expected growth in human population by 2050, a step-change in agricultural productivity, sustainability and resilience is needed to keep up with demand. Ensuring future food security and building climate resilience is also central to the UN's global sustainable development goals.
Renowned plant physiologist Professor Tracy Lawson, from Essex's School of Life Sciences, said: "We are delighted to have been awarded this funding from the Wolfson Foundation. This unique facility will build on our world-leading strengths in plant productivity research and allow us to exploit the latest technologies to improve key plant processes.
"It will elevate our cross-disciplinary research and work with business stakeholders to address some of the key challenges in the agriculture and horticulture sector. STEPS will also provide a unique platform for community engagement and outreach to increase the visibility of plant science research and highlight the global challenges in this area."
Professor Chris Greer, Essex Pro-Vice-Chancellor Research, added: "At Essex, our Plant Productivity Group (PP Group), led by Professor Lawson, is a world-class team of plant scientists, driven by a shared commitment to understanding the physiology and genetics of crop yield to address the global challenge of feeding the world in the future.
"Thanks to this grant from the Wolfson Foundation, the STEPS facility will take our already transformational research in this area to the next level, strengthen our partnerships with a diversity of stakeholders, and deliver real-world impact to mitigate the effects of climate change on global agriculture."
The STEPS facility will extend the activities initiated by the Essex Plant Innovation Centre (EPIC), which brings together the research skills, expertise and technologies from the PP Group, the School of Computer Science and Electronic Engineering, the Institute for Analytics and Data Science and Essex Business School, to provide an innovative platform to engage industrial partners and stakeholders in addressing the many challenges facing the agricultural and horticultural sector at local, national and international levels.
EPIC already has strong links working with agri-tech and environmental industries to deliver solutions to real-world problems including helping develop new tools for plant growth in indoor environments using a combination of sensors, robotics and feedback systems to explore how lighting regimes for indoor/vertical farming environments can be fine-tuned to optimise plant performance whilst reducing energy demand and other inputs.
The facility, which is due to be open by late summer 2023, will comprise four unique environmental growth rooms. This project will include long-time industry collaborator Innovation Agri-Tech Group (IAG). British agricultural technology company, IAG, will be installing the commercial standard vertical farm unit, deploying a full scale GrowFrame system – which is unique to the global vertical farming market.
The GrowFrame will provide a facility at Essex for extended education, UK outreach, research, experimentation and knowledge transfer for the real-world application of CEA (Controlled Environment Agriculture).
Paul Ramsbottom, Chief Executive of the Wolfson Foundation, said: "New and improved farming methods will be crucial to solving some of the great challenges of the 21st century, not least global food security - especially in the context of a changing climate. The University of Essex has an impressive track record in crop science and we are delighted to be supporting these experimental facilities. We hope they will assist in making important new breakthroughs in sustainable food production."
Go to original story
---