Research seeks solutions for climate change, hunger
---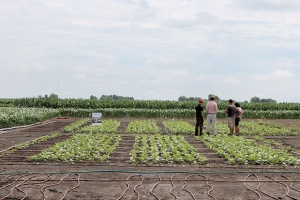 Researchers at the University of Illinois are taking the basics of photosynthesis miles farther in Urbana-Champaign test plots and greenhouses — intervening in the process, through which plants use sunlight to produce energy, to create higher yields.
Last year, by altering the photosynthesis process in tobacco, researchers saw 15 percent yield increases, said Katazyna Glowacka, a postdoctoral researcher working on the project. The research team showed that plant growth and yield can be increased by altering a mechanism plants use to protect themselves from excess solar energy.
At a Food and Fuel Field Day in July, researchers invited guests to visit test plots where results like this were first documented last year and research is moving ahead full steam this year.
"It gives people a chance to see the plants in real life and see how much effort goes into the research," said Claire Benjamin, university communication coordinator.
The research includes adapting crops for global change: to feed more mouths and adapt to climate changes and declines in some natural resources, said Don Ort, a University of Illinois professor focusing on photosynthesis research and global change.
Some of the global food security work is being done on cassava, a popular food crop in sub-Saharan Africa. The roots can create cyanide, which can cause illness in already malnourished people.
"We don't have as much information on cassava. There is more room to improve these plants," said Amanda De Souza, a postdoctoral researcher.
The goal is to make the crop more abundant and healthier to meet the need for food in the future, especially in Africa.
Plant breeders and others are learning from the FACE — Free-Air gas Concentration Enrichment — project, which adds carbon dioxide to a specific area in a field to see how it will affect the crop, Ort said. The primary research focus is on soybeans, but the impacts of atmospheric change on other crops is also being studied.
The amount of carbon dioxide in the air in Illinois is expected to be more than 70 percent higher in 2050 than it was in 1960, and researchers are working with new genotypes — both from conventional breeding and genetic technology — that will be better adapted to future conditions, Ort said.
And RIPE, Realizing Increased Photosynthetic Efficiency, is in the fourth year of a five-year, $25 million study funded by the Bill and Melinda Gates Foundation. Researchers are hopeful they will receive renewed funding to continue the work.
For the photosynthesis studies, tobacco, which is not usually a big crop here, was chosen because it cycles rapidly with a shorter growing season. Once the knowledge is obtained, the next step is to transfer it to other crops.
"In the future, it will include corn, soybeans, sorghum, rice and other grains grown in Africa and Asia," said Johannes Kromdijk, a postdoctoral researcher. "There is not a guarantee, but it is possible it will work in other crops."
The photosynthesis research focuses on a bottleneck in the process that can slow things down. The goal is to eliminate that block, explained Patricia Lopez, a senior research officer from the University of Essex working in Illinois.
Three different genes must be altered to get results. Time is part of the reason that a genetic modification process must be used instead of plant breeding alone, Kromdijk explained.
"The goal is to produce more food on less land," said Paul South, a postdoctoral researcher specializing in molecular biology. "The goal is to give plants to farmers that can improve yield and improve food security."
Next year, South hopes to get intellectual property rights to grow potatoes and cowpeas.
It will likely take 10 to 20 years and a $150 million investment for large companies to get some of this research turned into products that corn and soybean farmers here can use, South said.
---
Go to original story
---