RIPE project aims to help farmers grow more with less
---
Lab breakthroughs could lead to greater crop production, prepare for future population growth.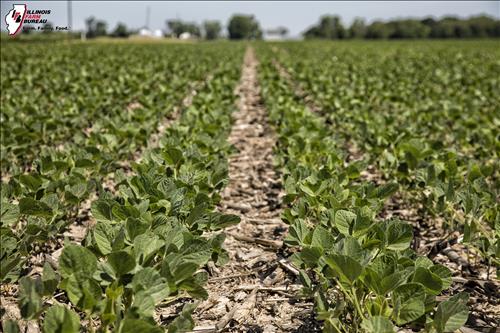 Researchers hope to make plants more efficient in the photosynthesis process, which could shorten the time needed for crops to reach maturity. (Illinois Farm Bureau file photo)
Farmers probably don't feel a sense of urgency to boost food production at a time when historically large ending stocks of corn and soybeans weigh on prices.
But, for researchers, the clock is ticking for those looking to help farmers grow more with less and ease concerns about population growth and future food demand.
"Time is of the essence, especially as we look to a future filled with more people and a dramatically different climate," said Stephen Long, director of the Realizing Increased Photosynthetic Efficiency (RIPE) project and Ikenberry Endowed chair of crop sciences and plant biology Ikenberry Endowed University Chair of Plant Biology and Crop Sciences at the University of Illinois. "We must future-proof our food supply today to ensure that these technologies are available when we need them."
The RIPE project focuses on genetic research to improve how crops transform sunlight into yield.
It received a $45 million, five-year reinvestment in 2017 from the Bill & Melinda Gates Foundation, the Foundation for Food and Agriculture Research and the United Kingdom's Department for International Development, along with an additional $13 million more recently from the Gates Foundation.
Estimates currently project the world population could grow from 7.3 billion to more than 9 billion by 2050. But it takes at least 15 years for many genetic crop breakthroughs to make the leap from lab settings to farmers' fields.
"We know we're facing the struggle to produce enough food to meet projected demand by 2050," Amanda Cavanagh, project researcher, told the RFD Radio Network®. "To do that, we have to start getting tools in hand in these model crops."
Key crops included in the RIPE research are soybeans, rice, cassava, and cowpea.
Researchers focus on the plant protein, rubisco, which fixes carbon dioxide from the atmosphere into sugar during photosynthesis.
"It serves one of the most important jobs on the plant," Cavanagh said. "That link produces the bulk of the food we eat on the planet."
But rubisco features some inefficient tendencies. Researchers estimate about 20 percent of the time it pulls oxygen from the atmosphere, rather than carbon dioxide, which produces a compound the plant must recycle as it attempts to capture carbon and produce something it can metabolize.
"Modeling work shows that, for soybeans and wheat in the Midwest, this process can reduce yields by as much as 36 percent," Paul South, project researcher, told RFD. "We're trying to find a shortcut to make the plant more energy efficient."
If researchers can genetically engineer crops to be more efficient in the photosynthesis process, it could shorten the time it takes the crops to reach maturity.
Meanwhile, researchers in the RIPE project continue to study the architecture of crops to see if plant leaves can be rearranged to capture more sunlight and boost photosynthesis.
"This kind of genetic engineering is another tool we can provide farmers as a way to maybe grow more food on less land and provide a safe food supply," South added.
Separate studies at the U of I also identified key drivers of corn photosynthesis.
Audio: South and Cavanagh discuss the battles between sound science and the public perception. 
Audio file found here: https://farmweeknow.com/story-ripe-project-aims-help-farmers-grow-more-less-5-185353
---
By: Daniel Grant | Farmweeknow.com
Go to original story
---
---
RELATED RIPE OBJECTIVES
Photorespiratory Bypass