July 5, 2022
RIPE's "More than an internship" mentorship program receives inaugural IGB DEI award
---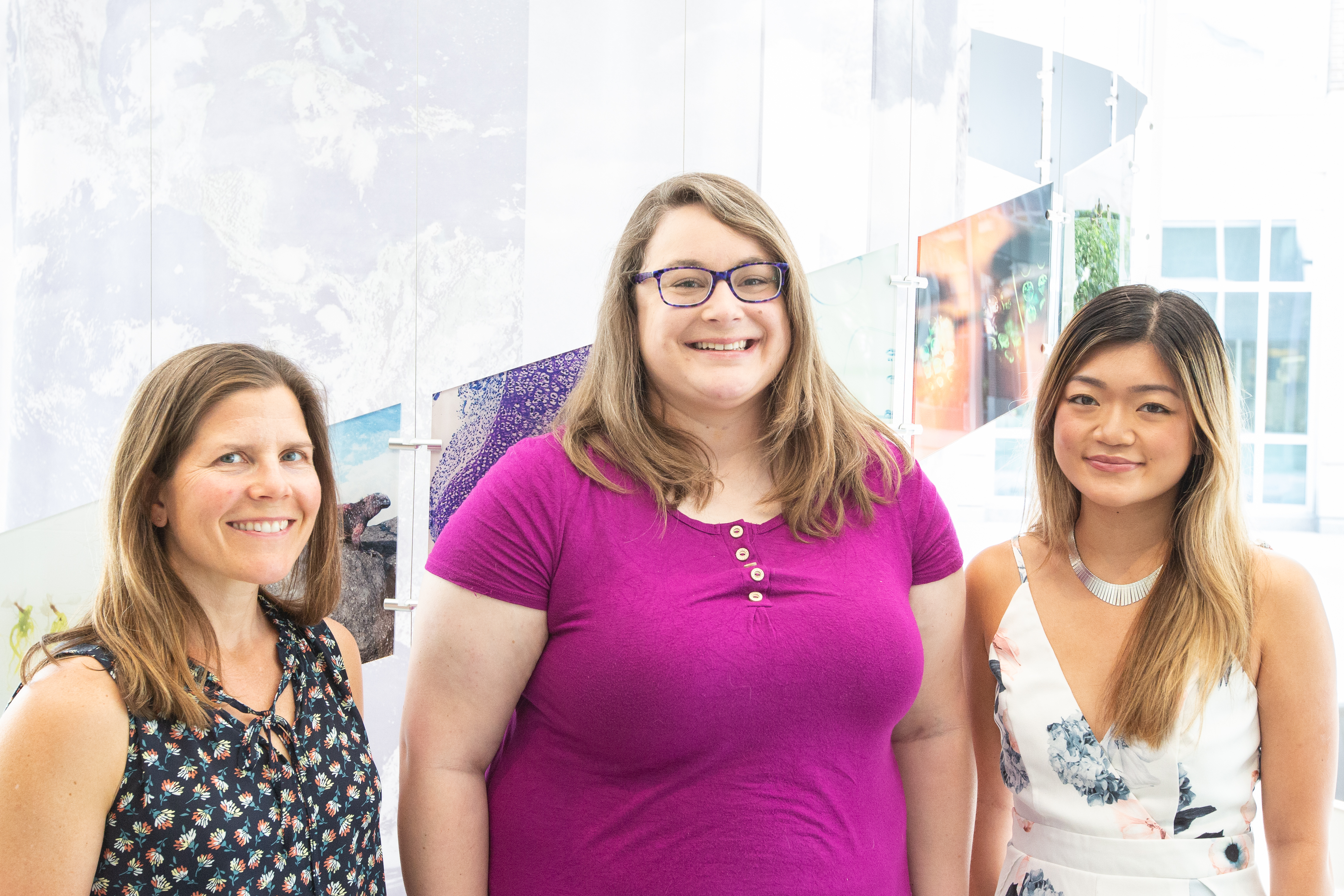 The Realizing Increased Photosynthetic Efficiency (RIPE) project's communications team was one of two recipients in the inaugural year of the IGB Diversity, Equity, and Inclusion (DEI) Awards. Focused on providing an opportunity for an underrepresented student, the project, "More than an internship: RIPE mentorship work experience for underrepresented students," was recently funded by the Committee on Diversity at the Carl R. Woese Institute for Genomic Biology.
"One of the greatest ways to increase the number of people in an underrepresented group in a particular field of study is to hire and integrate them in the organization, but hiring alone doesn't set them up for success," said Allie Arp, RIPE Communications Manager, who submitted the proposal. "While mentoring and networking are important for all young professionals, it is particularly important for those coming from underrepresented groups as they often have limited access to these opportunities." Arp holds a Master's degree in science communication and agricultural education from Iowa State University, has previously hosted resume and career-preparation workshops, and more than five years experience of mentoring junior staff. 
Gaining meaningful work experience is a crucial part of setting students up for success. However, while Black, Hispanic, and first-generation college students benefit more from internship experience than their white or continuing-generation peers, they are 16-33% less likely to be given the opportunity to participate.
"More than an internship" funds two, 16-week communications internship and mentoring experiences for underrepresented students, allowing them to work with RIPE's international group of researchers and participate in career-preparation activities under the guidance of the RIPE communications team. During a student's semester, this program would allow them to gain science communication experience by writing articles about RIPE research, implementing a social media campaign, and helping to facilitate RIPE virtual meetings. More than work experiences, the student will also complete two external-to-RIPE communications job shadows with a specialty focus and receive guidance in producing career materials that would aid in receiving future job offers or be accepted into a graduate program.
"It is an exciting opportunity for us to make an impact in our community and help provide support for students," said Amanda Nguyen, RIPE Communications Specialist. "This feels like a full-circle experience, and I'm grateful that we could contribute to a good and necessary cause." Nguyen, who earned her Bachelor's degree in political science and communication from the University of Illinois, was a former RIPE intern through Illinois' communications internship program. 
Applications for the program are currently being accepted through August 15th. Read more about the internship/mentorship experience and how to apply here.
"We are grateful that the IGB is forward-thinking and provides opportunities to imagine new programs for engagement," said Lisa Ainsworth, RIPE Deputy Director and Research Plant Physiologist for the U.S. Department of Agriculture, Agricultural Research Service (USDA-ARS).
The inaugural DEI Award invited IGB staff, affiliates, and collaborators to submit proposals that would promote and support diversity within the community, institute, and society, with funding up to $10K to be awarded for the most innovative and equitable proposals. Read about both awardees in the original story here.
---
The Realizing Increased Photosynthetic Efficiency (RIPE) project is an international research project that is engineering crops to be more productive by improving photosynthesis, the natural process all plants use to convert sunlight into energy and yields. RIPE aims to improve photosynthesis and equip farmers worldwide with higher-yielding crops to ensure that everyone has enough food to lead a healthy, productive life. With partner institutions all over the world, across the US and in the UK, China, and Australia, the RIPE project values diversity, equity, and inclusion of all people.
---
RIPE is led by the University of Illinois in partnership with The Australian National University, Chinese Academy of Sciences, Commonwealth Scientific and Industrial Research Organisation, Lancaster University, Louisiana State University, University of California, Berkeley, University of Cambridge, University of Essex, and U.S. Department of Agriculture, Agricultural Research Service. RIPE is supported by the Bill & Melinda Gates Foundation, Foundation for Food & Agriculture Research, and U.K. Foreign, Commonwealth & Development Office.
---
By: RIPE Communications 
---