Amanda Cavanagh: RIPE Women's History Month Feature Story
---
"Empowered." The word Amanda Cavanagh used to describe how it feels to be a woman in STEM.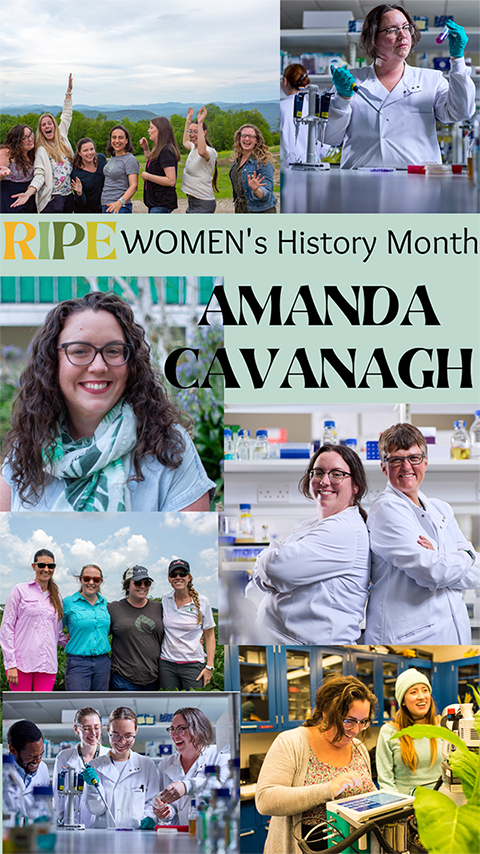 Cavanagh described that for generations it was unconscionable for women to have a path carved out for a position in STEM fields. Now there are cohorts of women who are hoping to change the face of science and challenge the stigmas. 
The theme of this year's International Women's Day is Equity. Amanda's definition of equity is, "giving everyone access to the same resources while providing, enabling, and supporting people to ensure equal outcomes."
Within RIPE, Cavanagh described equity as having a role in their plant research. For example, they are putting all the strategies into crops like soybean and cowpea to boost yields for farmers, particularly those in parts of the world that normally do not have access to technologically advanced seeds. She says RIPE is using "equitable resources to reach equitable outcomes."
Not only within plants does Cavanagh strive for equity, but in her position as a member of the RIPE team and a lecturer at the University of Essex. She aims to recruit a diverse team of thinkers and people to elevate the collaborations and results of the science. 
"I love that in the RIPE project our large-scale efforts reduce barriers and broaden communities," Cavanagh said. 
Tracy Lawson and Christine Raines are two women (and fellow RIPE team members!) Amanda works with at the University of Essex who have inspired her throughout her journey. They demonstrated that there was a way to be a woman in STEM and a leader while doing work you are passionate about.
"Most girls aren't raised with it being okay to fail," Cavanagh said. Her advice to younger girls interested in or intimidated by STEM is to "learn from all the times things don't go right and keep being resilient in different ways."
Cavanagh believes her career in STEM and the challenges have definitely been worth it as she met some of her best friends in the process. She believes the best part about being involved in STEM is when she can use her knowledge and guidance to create opportunities for others. One of her proudest accomplishments is when former mentees who have worked hard and gone on to develop productive careers for themselves.
"In order to support anyone in STEM, you have to appreciate their humanity," Cavanagh said. "Science shouldn't always come first — our field needs to recognize work-life balance, and I strive to remember this now that I manage my own team".
Amanda Cavanagh joined the RIPE Project as a postdoctoral researcher and spent time in the fields in Urbana, Illinois before moving to her current position as a lecturer at the University of Essex. Cavanagh is currently working on characterizing plant biochemistry to improve RuBP regneration. Her bachelor's in biology and chemistry and doctorate in biology from the University of New Brunswick, alongside her numerous awards showcasing her abilities as a researcher, lecturer, and general involvement in science, makes her time within the organization impactful.
CONTACT INFO:
Email: a.cavanagh@essex.ac.uk
Twitter: @cavycavs
During Women's History Month, RIPE will be celebrating a number of our women researchers, their accomplishments, and their advice to other women in STEM.
This feature was written and developed by Emily Campos, RIPE Science Communications Intern.
---