Christine Raines: RIPE Women's History Month Feature Story
---
"I always knew I'd be involved in STEM," stated Christine Raines as she recalled her family encouraging her interests in reading about science from an early age.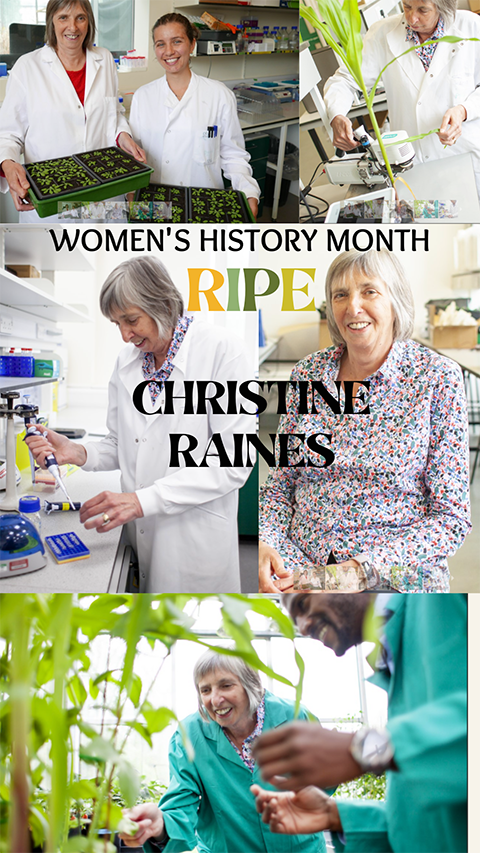 Growing up, Raines found science subjects exciting and developed a keen interest in chemistry, but she could not recall having found a woman role model involved in the STEM fields prior to obtaining her Ph.D.
After taking a postdoc position she teamed up with Dr. Julie Lloyd a fellow postdoc, to work on a science project involving genetics and photosynthesis. Working with Julie, Christine heard about her experiences while earning her Ph.D. in London and the prominent women in the area. That was an influential collaboration and the point in which Raines knew she could go on to develop her own path in STEM and be one to inspire others.
Raines described "It is important not to be passive if you want to see change in not only the faces but the evolution of science, it is important to take on senior roles in order to make changes." This is the way that people can support/influence the STEM field.
Moreover, Raines added that when she first had her faculty position there was a hierarchy in STEM, but now feels that this is changing and encourages younger researchers to question dogma and help create an environment to move new ideas forward.
To create equity, Raines believes that there should be equal opportunities for everyone. For example, allowing all team members to attend conferences and present their work in order to share the knowledge and the excitement of science. What Raines loves about RIPE is that it emphasizes the collaborative nature of science while bringing together people from all different walks of life. She enjoys the energy and enthusiasm of being part of a team and appreciates the different skills that each individual on the team brings.
"The way RIPE embraces equity is by making everyone comfortable and valued in their position," Raines stated, and hopes to see this continued in RIPE 3.0.
Raines advises younger women intimidated by the STEM stigmas to find a group of people you feel supported by, not only in your specific field but people who you can feel vulnerable around and empowered by. From her very first faculty position, to writing papers, to having senior management roles, and now being an inspiration to others, Raines is proud of all her stages in life and hopes to continue to make an impact.
Christine Raines joined the RIPE project at the very beginning in 2012. Within the project she is the senior PI on the executive team for Objective 5: Improving RuBP Regeneration and is a lecturer at the University of Essex. Christine was also the Head of the Department of the School of Biological Sciences at Essex from 2011-2017 and Pro-Vice Chancellor from 2017-2021. She has an international reputation for research on the Calvin-Benson Cycle, with years of experience in molecular biology, biochemistry, and physiology. She was also the editor-in-chief of the Plant Physiology Journal of Experimental Botany from 2012-2020. Raines was able to show that the enzyme SBPase exercises strong control over CO2 assimilation in tobacco plants and that photosynthetic capacity and yield are increased in transgenic tobacco plants with elevated SBPase.
Contact information:
Email: rainc@essex.ac.uk
Twitter: @rainc_CAR1
During Women's History Month, RIPE will be celebrating a number of our women researchers, their accomplishments, and their advice to other women in STEM.
This feature was written and developed by Emily Campos, RIPE Science Communications Intern.
---