Elizabete Carmo-Silva: RIPE Women's History Month Feature
---
Elizabete Carmo-Silva's meaning of being a woman in STEM is sentimental since her journey was influenced by her mother's sacrifice.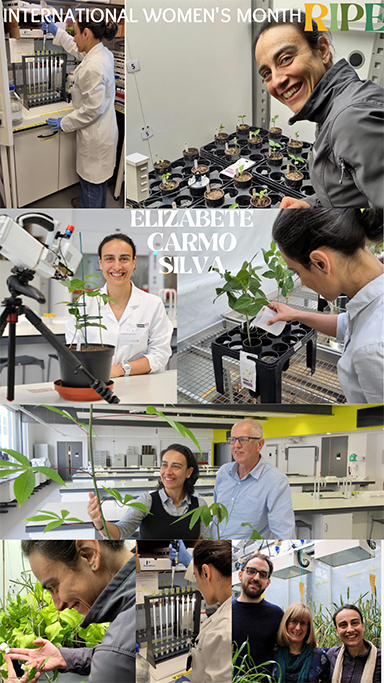 Carmo-Silva recalled that her mother loved studying but was forced to leave school when she completed 4th grade since her help was needed at the farm and vegetable market. Yet, her mother's younger brother continued studying as he was a boy.
"She dreamt that I could study as much as I wanted and have a different future," Carmo-Silva said. She continued that she looks back now and feels incredibly lucky to have had that inspiration growing up, and that her family made her believe she could achieve what she really wanted to.
Throughout her journey, Carmo-Silva always liked math and biology, and once she reached high school, genetics. This led her to complete her undergraduate degree in biology.
"During my second year I took plant physiology classes and got completely hooked!"
Those classes ignited her passion to pursue all things photosynthesis, particularly the variations (C3, C4, CAM) and Rubisco. Carmo-Silva knew then that she wanted to pursue this as a career!
Carmo-Silva believes that there is a lot of work to be done as a society to break down stereotypes, but being able to make others believe in themselves and empower them to go after their dreams are ways she encourages people to support others in any career field.
For anyone who is intimated by stigmas within their desired field, Carmo-Silva recommends they "Find out what inspires you, what you are passionate about. If you work on something you love, you are half-way there to becoming successful, because you will then put yourself into it."
Christine Raines has played a huge role in Carmo-Silva's continuous passion. She is inspired by Raines' prominent influence in RIPE projects, conferences, her leadership ethic, and her influence on driving cultural change."
"One aspect I find challenging is to strike a good balance between focusing on the science and allocating the right amount of energy to improving how we do science," Carmo-Silva said. "I greatly admire Christine achieving such balance in her contributions to photosynthesis research."
When asked about equity, Carmo-Silva explained that her definition of equity is helping everyone discover, and feel empowered in, their success.
To embody this, she works to "Have a good gender and nationality balance in the team I lead across the various career stages, from the student interns to the senior postdocs."
Carmo-Silva's hard work, persistence, and commitment to supporting others has paid off, "I am proud to have beaten my goal and made professor at 41."
Elizabete Carmo-Silva joined the RIPE project in 2012 as a researcher aiming to understand and improve the efficiency of photosynthesis in response to fluctuations in the environment. Carmo-Silva is currently a professor in crop science at Lancaster University. Her focus within RIPE is improving Rubisco regulation, building on her postdoctoral work on the regulation of Rubisco by its molecular chaperone Rubisco activase. She has also earned a bachelors and doctorate degree in applied biology at the University of Lisbon. The Journal of Experimental Botany, Plant Physiology, New Phytologist, and Nature Plants have all published Elizabete Carmo-Silva's work!
Contact information:
Email: e.carmosilva@lancaster.ac.uk
Twitter: @ecarmosilva
During Women's History Month, RIPE will be celebrating a number of our women researchers, their accomplishments, and their advice to other women in STEM.
This feature was written and developed by Emily Campos, RIPE Science Communications Intern.
---