Yu Wang: RIPE Women's History Month Feature Story
---
"Follow your heart and share your knowledge" is the motto Yu Wang follows in her career path.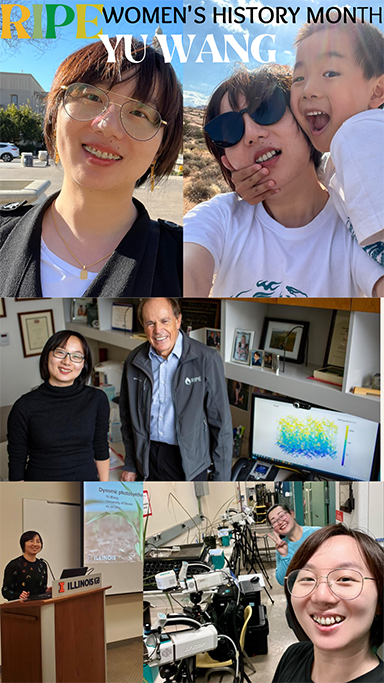 Yu Wang knew from a young age that she would be in a STEM career, thus she followed her heart toward her interests and passions in biology, leading to computational biology, and her work now in modeling biology!
Regarding Women's History Month, Wang believes anyone anywhere can succeed by following their heart and sharing their knowledge and that if we are able to share our abilities, we have opportunities for collaboration, creation, and equity. She defines equity as "everyone has the same opportunity to have a trial, to advance, and to be involved in the work they are interested in."
Wang describes her experiences in RIPE to have been more than equitable in all aspects and, "the best part is that everyone knows they are equal and valued for their contributions, RIPE is full of love for our mission."
Susanne von Caemmerer and Christine Raines, both also involved in RIPE, have been influences in Wang's career that make her continue to follow her heart. She not only looks up to their success in the field, but how they carry themselves with a cheerful and persistent frame of mind and lifestyle.
Wang is proud to be a woman in STEM and feels supported by her RIPE colleagues. She also expressed that her family and child play a huge role in her perseverance to manifest her desires.
More advice Wang wants to share to younger girls interested in science is to work on one single project and push it forward little by little. "Make the most out of the one opportunity and you will see yourself and the outcomes sprout beautifully."
Yu Wang joined The RIPE Project in 2015 as a postdoctoral researcher creating several models for photosynthetic metabolism and 3D crop canopies like soybean. Wang, originally from China, has spent the last 7 years at the University of Illinois Urbana-Champaign working on modeling plant productivity. Wang earned her bachelor's in biotechnology from the University of Science and Technology of China and a doctorate in computational biology from the Chinese Academy of Sciences-Max Planck Institute. Her scientific work has been published in New Phytologist, Physiology, Journal of Experimental Botany, and The Plant Journal.
Contact information:
Email: yuwangcn@illinois.edu
Twitter: @YuWangcn
During Women's History Month, RIPE will be celebrating a number of our women researchers, their accomplishments, and their advice to other women in STEM.
This feature was written and developed by Emily Campos, RIPE Science Communications Intern.
---