Oxford students make their way to Illinois' research fields
---
This summer, a new exchange program allowed nine Illinois Summer Fellows from the University of Oxford the opportunity to conduct research alongside highly qualified researchers and experience a different culture at the University of Illinois. 
Realizing Increased Photosynthetic Efficiency (RIPE) is an international research project that is engineering plants to photosynthesize more efficiently to increase the yields of staple food crops. All RIPE Fellows were paired with a supervisor to help with a specific component of the project.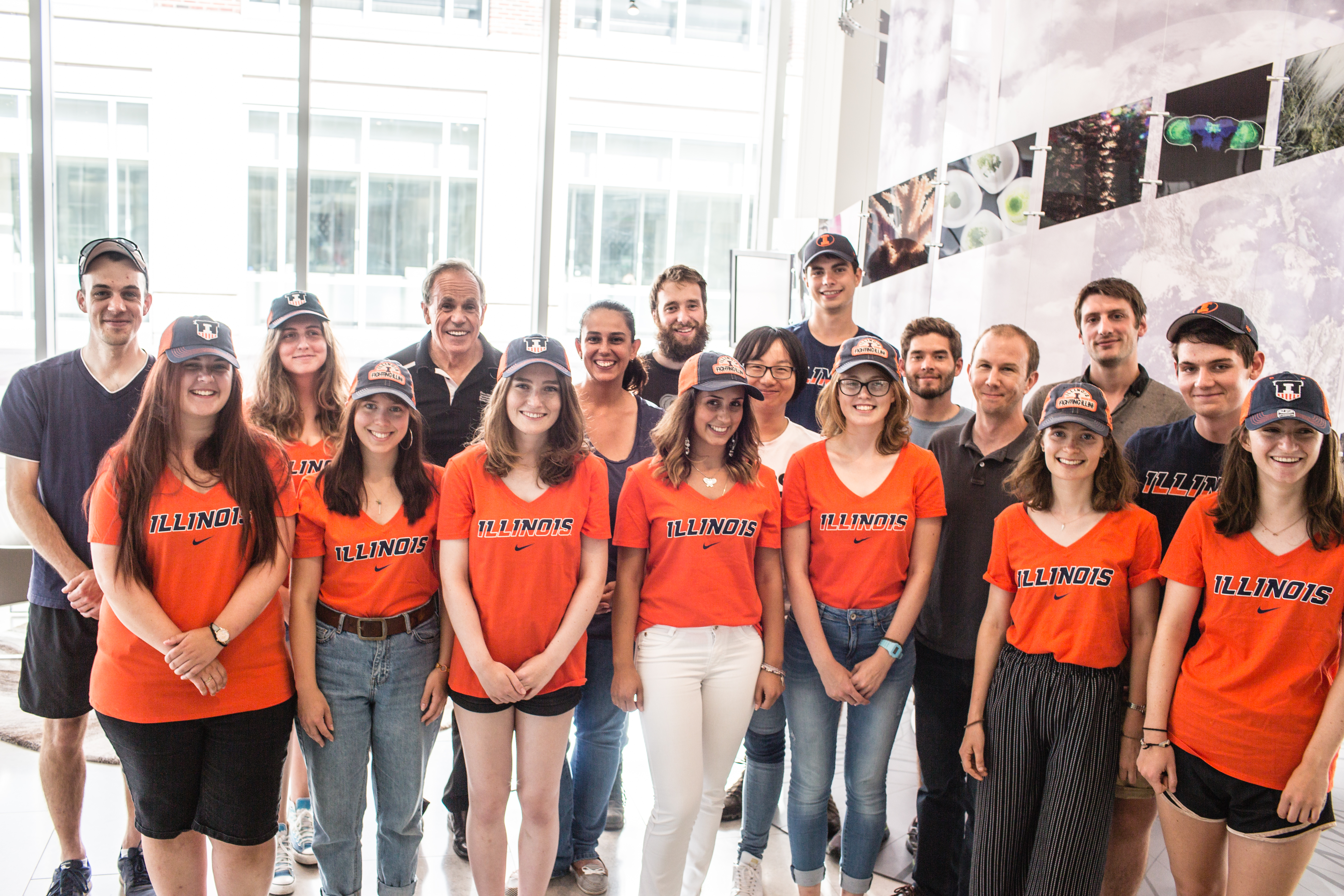 "I've become extremely invested in the RIPE project," said Isla Causon, a RIPE Illinois Summer Fellow from Oxford. "The hope is for my data to become useful within the project for our long-term goal: to increase photosynthetic efficiency and boost crop yields." 
Other Fellows worked for Water Efficient Sorghum Technologies (WEST), a research project that is developing crops that require less water to improve agricultural productivity, sustainability, and resiliency. 
As the summer is winding down, all of the Fellows believe that they will take back valuable skills that will help them in their future endeavors. 
"I have been given a great amount of responsibility while working on my project," said Robert Collison, a WEST Illinois Summer Fellow from Oxford. "I've been able to gain experience using technologies that I will be able to use throughout my degree and beyond."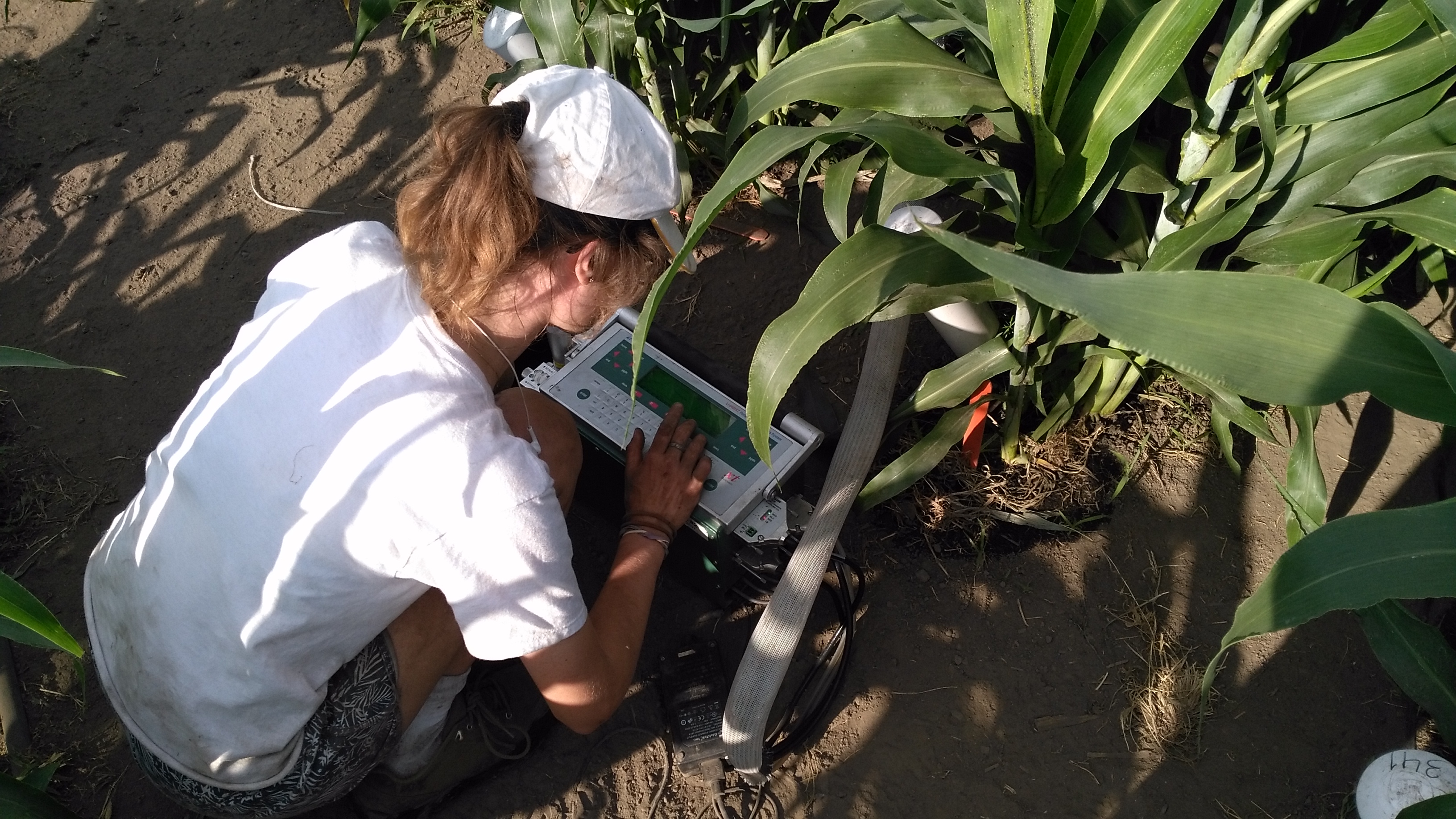 The Fellows said that this well-rounded experience gave them the opportunity to travel to another country and meet new people while learning the ropes of research and how to collect data from top-notch researchers.
These Fellows began with an interest in biology, but now they can see how their efforts can be translated to help create a food secure future. 
---
Oxford Fellow Profiles
| | |
| --- | --- |
| Isla Causon | Isla Causon came to the University of Illinois after hearing Steve Long's speech on the importance of engineering photosynthesis for global food security at the University of Oxford. Fascinated by the many routes that were being investigated to increase photosynthetic efficiency, and the vast impact this research could have, Isla joined the RIPE project for the summer. She conducted a research project involving soybeans—studying a process where the plant protects itself by making changes within the leaf to dissipate excess energy. Isla has gained valuable skills including being able to come up with research ideas, building the theory behind them, planning experiments to collect the data, and writing papers, all of which she will carry throughout her career. Isla is starting her third year at Oxford, majoring in biology.  |
| Robert Collison | Robert Collison came to the University of Illinois to work on the WEST project and aid his supervisor's research efforts by collecting data and ensuring the crops grew well. After hearing RIPE Director Stephen Long's speech at the University of Oxford, Robert decided that this internship would help develop his interests and give him the opportunity to learn more about real-world research in plant sciences. Through this internship, Robert validated his desire to pursue a career in plant sciences in the future. He will be able to take back the experience he had in the field and in functional labs. He will also be able to demonstrate his knowledge of how research is carried out in terms of experimental setup and data collection methods. Robert plans to return to Oxford to further develop his passion in biological sciences. |
| Stephanie Cullum | Stephanie Cullum came to the University of Illinois to work on the RIPE project, where she studied the process plants go through when they are trying to protect themselves by making changes within the leaf to dissipate excess energy as heat. Stephanie conducted this research in different cowpea varieties. The aim is to identify which lines have the fastest induction and relaxation the proteins that control this process, which studies on a model crop have shown to lead to higher optimization of photosynthesis and can be applied to increase the yields of food crops like cowpea. RIPE Director Stephen Long's speech about the goals of RIPE at the University of Oxford resonated with her future goals of improving global food security, which led her to apply for this internship opportunity at Illinois. Throughout the internship, Stephanie experienced first-hand some of the difficulties with research in a scientific field; for example, this year's weather conditions gave her a greater appreciation for each success in research. Stephanie is entering her second year at Oxford where she is studying biological sciences.  |
| Lulia Floristeanu | Lulia Floristeanu came to the University of Illinois to work on the RIPE project. Her research focuses on heliotropism in the leaves of soybean and cowpea—which is the movement of the leaf according to the sun's position. This work involved observing the different variations of those plants at different times in a day and noting which ones have the biggest change in angle from morning to midday, when the sun is strongest. Lulia is considering earning a doctorate and thought that this experience would give her an opportunity to engage with and learn from people who have already gone through this experience. She gained an appreciation for collaborations for others and field research. Lulia is entering her second year at the University of Oxford where she is studying biological sciences.  |
| Pietro Hughes | Pietro Hughes arrived at the University of Illinois to start his internship for the RIPE project working under David Drag and Ben Harbaugh, who manage the project's field trials and greenhouse experiments. Pietro's work involved the preparation of the field sites and greenhouse to help ensure that the RIPE project experiments ran properly. He was inspired to come work at Illinois for the summer because the goals of RIPE to improve global food security resonated with him. Pietro is in his first year at the University of Oxford studying biological sciences.  |
| Lucy Manukyan | Lucy Manukyan came to the University of Illinois because of the potential that the RIPE research project has to impact the world and provide tangible results in the foreseeable future. Lucy has been working both in the field and in the lab for the RIPE project where she worked with cassava, a staple food crop for 800 million people across the globe. She particularly enjoyed watching the weather patterns to make preparations to protect the crops. She also enjoyed working alongside experienced and knowledgeable researchers. Lucy is going into her second year at the University of Oxford where she is studying biological sciences.  |
| Emma Raven | Emma Raven came to the University of Illinois to work on the WEST project on sorghum water use efficiency, primarily in the lab of Andrew Leakey. She was inspired to come to Illinois because of the potential benefits of food security research on this campus. She also came to aid in the potential improvement of agriculture through projects that have long-term goals. Emma has gained experience in the field—from using LI-CORS to transplanting plants. She also will take back with her methods of collecting data and processing it. Not only has Emma been gaining educational experiences, she also has enjoyed her time here on campus whether eating BBQ or cycling through Urbana. Emma is in her first year at the University of Oxford where she studies biology.  |
| Aoife Tetsche Sweeney | Aoife Cecilie Tetsche Sweeney came to the University of Illinois to work on the RIPE team, primarily in collecting a variety of data for projects being conducted. Aoife has always been interested in how agriculture can be improved to enable our growing population to be fed. RIPE Director Stephen Long's speech about methods in which scientists are now trying to increase yield using mutations in systems, such as helping plants adapt to fluctuating light conditions, sparked an interest that led her to Illinois. Aoife is in her first year at the University of Oxford where she is studying biological sciences. |
| Freya Way | Freya Way came to the University of Illinois to work on the TERRA-MEPP project under her supervisor Justin McGrath on a project that compares varieties of sorghum with low and high densities of stomata—the microscopic pores in the leaf that allows water to escape—to see how they change in response to changes in light intensity. Freya was inspired to come to Illinois because of a talk RIPE Director Stephen Long gave at the University of Oxford about how to combat global food security and also because she is interested in how environmental sustainability can be fulfilled through agricultural innovation. Freya gained experience in different types of fieldwork, data collection, and the operation of technical equipment used for research. She was also able to help compile her research in a paper. Freya especially appreciates the friendships that she made through this internship. Freya is in her first year at the University of Oxford where she is studying biological sciences. |
---