Meacham-Hensold hired as RIPE's first Scientific Program Manager
---
The Realizing Increased Photosynthetic Efficiency (RIPE) Project has hired Katherine Meacham-Hensold
as its first Scientific Program Manager. Meacham-Hensold will lead the coordination of RIPE's field trials and plant transformation activities, manage the compilation of regular research updates, and serve as a liaison between RIPE and Bill & Melinda Gates Agricultural Innovations, in addition to continuing to conduct her own research.
 "It is exciting to have someone of Katherine's experience and abilities in this key and much-needed role as RIPE moves to translate its discoveries into products," said RIPE Director Stephen Long, Ikenberry Endowed University Chair of Crop Sciences and Plant Biology at the University of Illinois Urbana-Champaign.
Bringing more than a decade of photosynthesis research to the position, Meacham-Hensold received her bachelor's degree in agricultural science from the Royal Agricultural University in the U.K. and her doctorate in plant sciences from Australian National University and the Commonwealth Scientific and Industrial Research Organisation (CSIRO). She has been published in a number of journals including the Journal of Experimental Botany, Frontiers in Plant Science, and Plant Physiology. For the last seven years, Meacham Hensold has been a Postdoctoral Research Fellow in the Bernacchi Lab developing phenotyping platforms to measure photosynthetic traints in field trials before moving to a Research Scientist position in Ort Lab leading the application of photorespiratory bypas in food crops.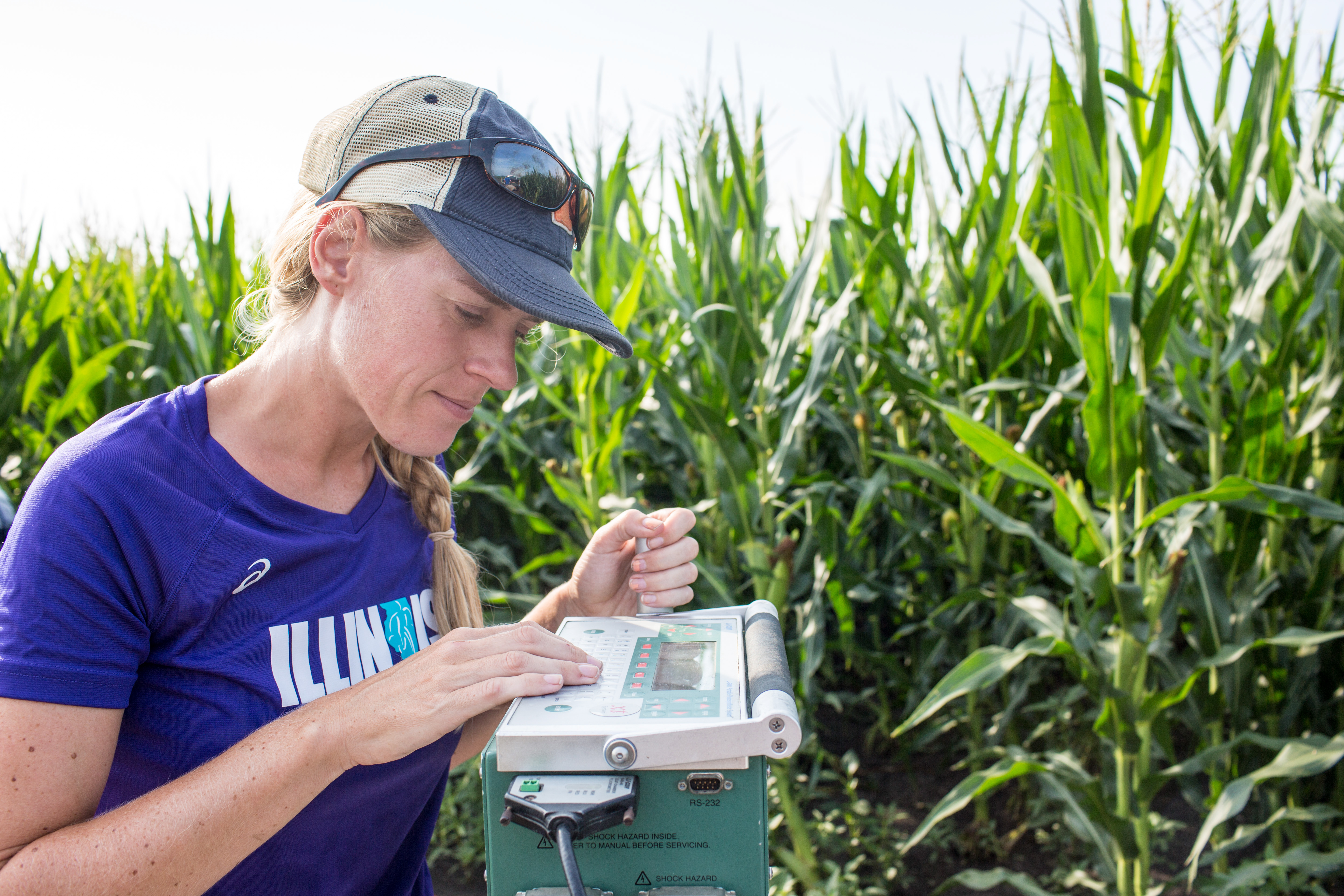 "Katherine has been an amazing asset to my research group," said Don Ort, Meacham-Hensold's former principal investigator and the Robert Emerson Professor in Plant Biology and Crop Sciences at Illinois. "While she will certainly be missed, I am excited for both Katherine and for the RIPE project as she takes on this new career opportunity." 
Meacham-Hensold is filling a newly created role designed to improve the efficiency of RIPE' research coordination and technical reporting to the sponsors. While she will be based out of RIPE's headquarters within the Carl R. Woese Institute for Genomic Biology at Illinois, her position will serve all of the RIPE partner institutions; including Lancaster University, the University of California, Berkeley, University of Cambridge, University of Essex, and the U.S. Department of Agriculture, Agricultural Research Service.
"I am thrilled to take on this role and help build effective relationships between RIPE funders, researchers, and directors," said Meacham-Hensold. "I am invested in the fantastic technologies the RIPE project has and is producing, and am excited to help build avenues to bring these products to farmer's fields."

RIPE is an international research project that aims to improve access to the global food supply by developing food crops that turn the sun's energy into food more efficiently with support from Bill & Melinda Gates Agricultural Innovations, the Bill & Melinda Gates Foundation, Foundation for Food & Agriculture Research, and the U.K. Foreign, Commonwealth & Development Office.