RIPE researchers among 2019's most influential scientists
---
This year, Realizing Increased Photosynthetic Efficiency (RIPE) has four team members recognized by the Web of Science group as Highly Cited Researchers,  who produced multiple papers ranking in the top 1% by citations across 21 disciplines.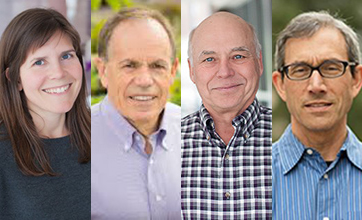 Three of the RIPE project's Highly Cited researchers are affiliated with the College of Agricultural, Consumer and Environmental Sciences (ACES) at the University of Illinois: Elizabeth (Lisa) Ainsworth, Stephen Long, and Donald Ort. Krishna Niyogi is from the Department of Plant & Microbial Biology at the University of California, Berkeley.
The Web of Science group recognized Ainsworth and Long for their cross-field influence, while Ort and Niyogi were recognized in the category of plant and animal science.
Elizabeth (Lisa) Ainsworth leads the USDA Agricultural Research Service's Global Change and Photosynthesis Research Unit, and is a professor in plant biology and adjunct professor in crop sciences. She is also a member of the RIPE Executive Committee. Ainsworth conducts research aimed at increasing crop production under changing climates. Her research uses physiological, biochemical, and genetic approaches to understand the mechanisms of plant responses to air pollution and climate change. A key goal of her work is to maximize crop production in the future.
"It is a tremendous honor to be recognized for the citations to my research," Ainsworth said in a release from the College of ACES. "Although I appear on the list, most of my highly cited publications have been written in collaboration with exceptional mentors (including Steve Long), graduate students, and post-docs. I am grateful to all of them for their collaboration and hard work."
Stephen Long, Ikenberry Endowed University Chair of Plant Biology and Crop Sciences at Illinois, directs the RIPE project. His work addresses the effects of climate change on crop yield, using computational and experimental approaches to improve photosynthetic efficiency in important staple crops worldwide. His groundbreaking work has landed him on the list of highly cited researchers each year since 2005.
Krishna Niyogi is a professor of plant and microbial biology at Berkeley and a member of the RIPE Executive Committee. His work seeks to understand how photosynthetic energy conversion works, how it is regulated, and how it might be improved to help meet the world's needs for food and fuel.
Don Ort, Robert Emerson Professor of Plant Biology and Crop Sciences, leads the Genomic Ecology of Global Change theme in the Carl R. Woese Institute for Genomic Biology. His research focuses on improving photosynthesis and addresses crop responses to global change factors, including increases in atmospheric carbon dioxide and temperature.
"It is an honor to work towards our goal of improving photosynthesis to increase yields alongside colleagues recognized for their scientific achievements and contributions to our understanding of photosynthesis," Long said. "However, these awards would not be possible without countless collaborators—including many postdoctoral researchers and graduate students—and funding from sponsors such as the Bill & Melinda Gates Foundation, Foundation for Food and Agriculture Research and the Department for International Develop who support the RIPE project."
Adapted from a news release by Lauren Quinn, a communications specialist for the College of ACES.
Go to original story