Elizabete Carmo-Silva: Research, Rubisco, and Reigniting Optimism
---
With the wind wisping through her hair, Elizabete Carmo-Silva darted quickly to catch up to her ecology professor, Fernando Catarino, who would show his students plants of all shapes, shades, and sizes. That day, so many years ago, first sparked Elizabete's fascination with plants, ultimately planting the seed for her passion for plant physiology and biochemistry. 
Today, Elizabete studies photosynthesis, the process that plants use to harvest and convert sunlight into energy. Rubisco is the main photosynthetic enzyme that is responsible for capturing and turning carbon dioxide into sugars that energize the plant. As much as Rubisco benefits plant growth, it can also be a great hindrance to photosynthesis. About 20 percent of the time, Rubisco fixes oxygen molecules instead of carbon dioxide, costing the plant energy that could have been utilized to photosynthesize. Therefore, Rubisco is one of the most vital components to determine—and improve—the efficiency of this process. 
Elizabete is interested in the various properties of Rubisco, such as how this enzyme is regulated in response to the environment and how exactly it influences photosynthetic efficiency. The enzyme's complexity—often observed in its response to fluctuating light levels in the field—is what drew her to this specific area of research, as it greatly affects food production. 
"I'm very conscious about being part of the planet and trying to minimize our negative impacts while improving the efficiency of agriculture to ensure that we have enough food for everyone," said Elizabete, who is now a senior lecturer in plant sciences for food security at Lancaster University. "It's very important to me that my research is meaningful and has a positive influence." 
This drive led her to work on an international research project called Realizing Increased Photosynthetic Efficiency (RIPE) that aims to improve photosynthesis to increase the yields of staple food crops, such as cowpeas and cassava, to help ensure global food security. 
"We are all working together as a team, and that's what makes RIPE special," Elizabete said. "By combining the expertise from different people all over the world, we can make even more meaningful contributions through our research." 
Elizabete's team at the Lancaster Environment Centre is currently screening diverse varieties of cowpea and soybean to find different forms of the helper enzyme Rubisco activase (Rca) that are naturally occurring and trigger Rubisco to turn on and off. They compare these different Rca's side by side to find forms that turn Rubisco on faster in response to increasing light levels. The goal is to identify improved forms that can be used to boost crop yields across these species. 
Her team recently reported in The Plant Journal that swapping just one amino acid can make Rubisco activase (Rca) active at higher temperatures without affecting its efficiency to activate Rubisco. This finding could help crops kickstart photosynthesis under high-temperature stress to increase yields for smallholder farmers who rely on these crops for their livelihoods. (Read more in our press release.)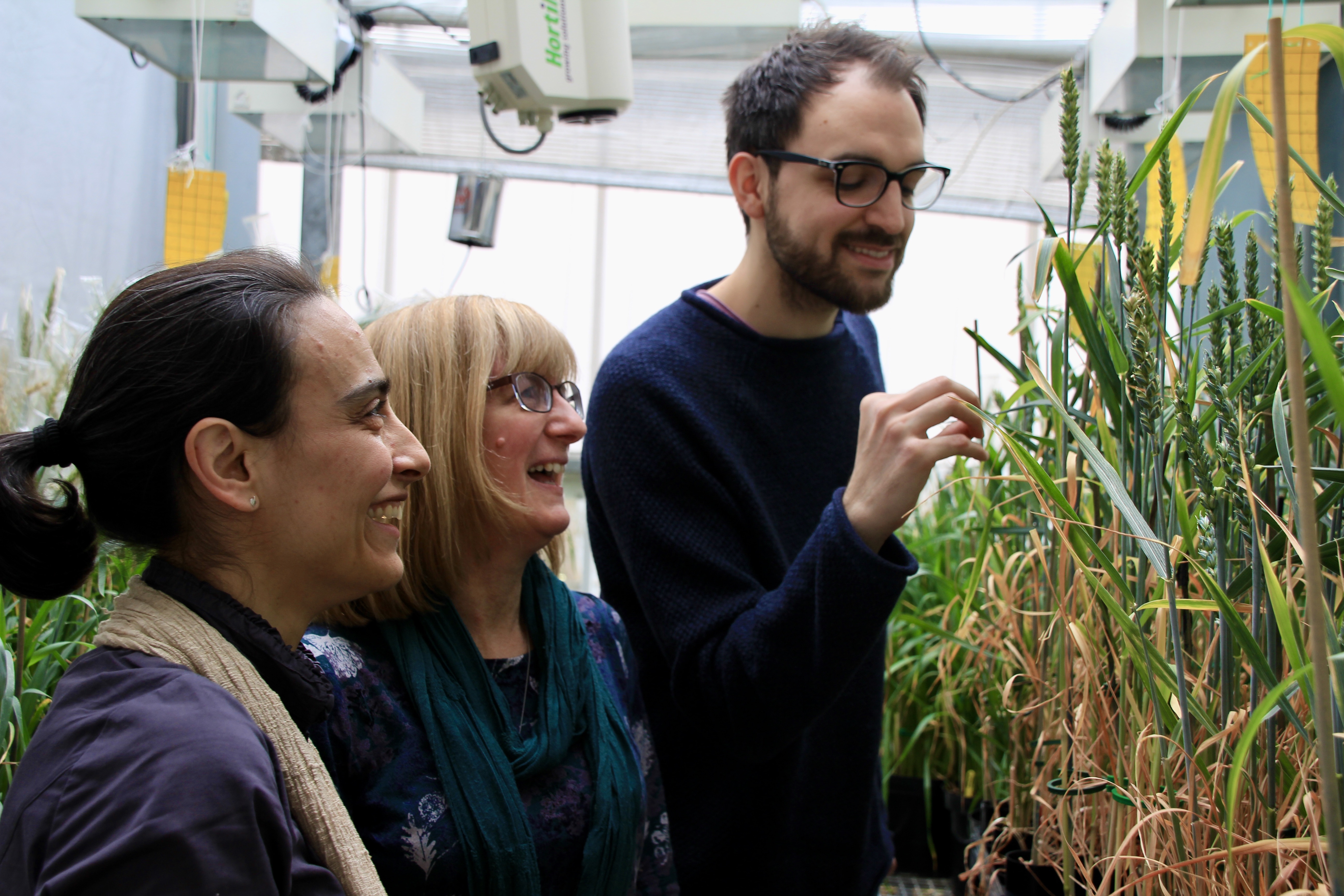 "If we were to increase the speed of activating Rubisco, we could increase yield by up to 20 percent, according to computer simulations," she said. "But we cannot deliver these solutions without much-needed conversations with farmers." 
Elizabete and her team have already begun reaching out to cowpea breeders in Nigeria to involve them in developing meaningful solutions early on. "It's important that we take note of these cultivars' other properties to provide the farmers with a crop that has the key traits that are important for them, along with the improved performance of Rubisco," Elizabete said. 
"We need to understand the traits that consumers are after. For example, south Nigerian farmers may only accept grains that are wrinkly because they perceive those grains to be better for swallowing," she said. "By fostering interactions with different stakeholders, we can ensure that our research will, one day, make a difference." 
Collaboration is at the heart of Elizabete's career, whether she is working with cowpea breeders or those in her lab. She equally values the potential impact that her research could have on crop growth and the influence that she has on those around her—particularly her students, who she believes have the capacity to drive real change for the future. 
"I can see how every single person who has joined our team has contributed to our success in one way or another," she said. "I try to create a culture in our lab that favors their development and makes them feel welcome to be themselves and to develop as researchers in their own right"—a philosophy that has evolved from her own feelings of self-doubt. 
Despite much success, she frequently finds herself thinking: how did I get here? In these moments, when wrestling with imposter syndrome and uncertainty, she turns to the many supportive mentors and colleagues who help her believe in herself. 
"I try to pass that on to the researchers whom I'm mentoring and supervising," Elizabete said. "But they need to find what it is that motivates them to do great things." 
"Scientists must be resilient, persistent, and interpret feedback in a positive way to grow," she adds. And that is a lesson that she has made sure to embody, proving that collaboration, encouragement, and support are vital to progression in research, and ultimately, in life. 
Although finding solutions to help alleviate world hunger is a challenge, Elizabete lays down the groundwork for the hope that it is a challenge that can be overcome by working together. 
---
By: Amanda Nguyen || RIPE Communications Specialist 
 
---