May 17, 2023
RIPE researchers play big role in SEB Birthday Grant event
---
One hundred years of experimental biology, impactful research findings, innovative approaches, developmental workshops, and leadership in STEM has led to the SEB 2023 centenary conference.
The Society for Experimental Biology (SEB) is celebrating its 100th anniversary throughout 2023, and in April announced 10 recipients of the SEB 100th Anniversary Birthday Grant. Successful applicants were awarded £500 to plan a celebration event at their own institute.
Amanda Cavanagh, RIPE team member and Lecturer in the School of Life Sciences at the University of Essex, was a recipient of one of the birthday grants. She organized Celebrating Plant Science,  an early career researcher event on May 24, 2023 at Essex.
"I hope that this event will make attendees realize that there is space for them within the SEB," Cavanagh said. "The society offers so many opportunities for career development through training and mentoring, travel grants to attend conferences, and awards for early career members. Supportive events like this are a great way to discover how being a part of a society can benefit you."
Registration for the event is free and includes lunch, a keynote session, mentorship panel, a poster session, and networking opportunities! The keynote and panel feature many former and current RIPE researchers. Susanne von Caemmerer will present the main talk and a career panel will feature incoming SEB president Tracy Lawson, past SEB president Christine Raines, and Editor of the Journal of Experimental Botany Mike Page.
"The overarching theme of the keynote will be about species diversity and species-specific responses which is really important if we want to transfer some of our molecular manipulation from one crop to another," said von Caemmerer, Emeritus Professor of Molecular Plant Physiology at Australian National University and former RIPE collaborator.
Cavanagh pointed out that while the past three years have been incredibly challenging for many researchers, students and postdocs have had very few opportunities to grow their network and meet their peers because of COVID restrictions. This makes events like Celebrating Plant Science, with a focus on networking and career-building, even more important.
"The fact that we are celebrating 100 years of SEB makes this year a special year, and I am honored and looking forward to being involved in steering the direction of the society over the next few years as we look forward to the future of experimental biology," said Lawson, Professor of Plant Biology Essex and RIPE objective leader. "SEB was the first society I joined as a Ph.D. student, and I presented my first oral presentations at the annual meeting in St. Andrews. Building these networks and collaborations is critical to the future of plant sciences and we need to bring together all our expertise if we are to address some of the global and societal challenges facing our discipline."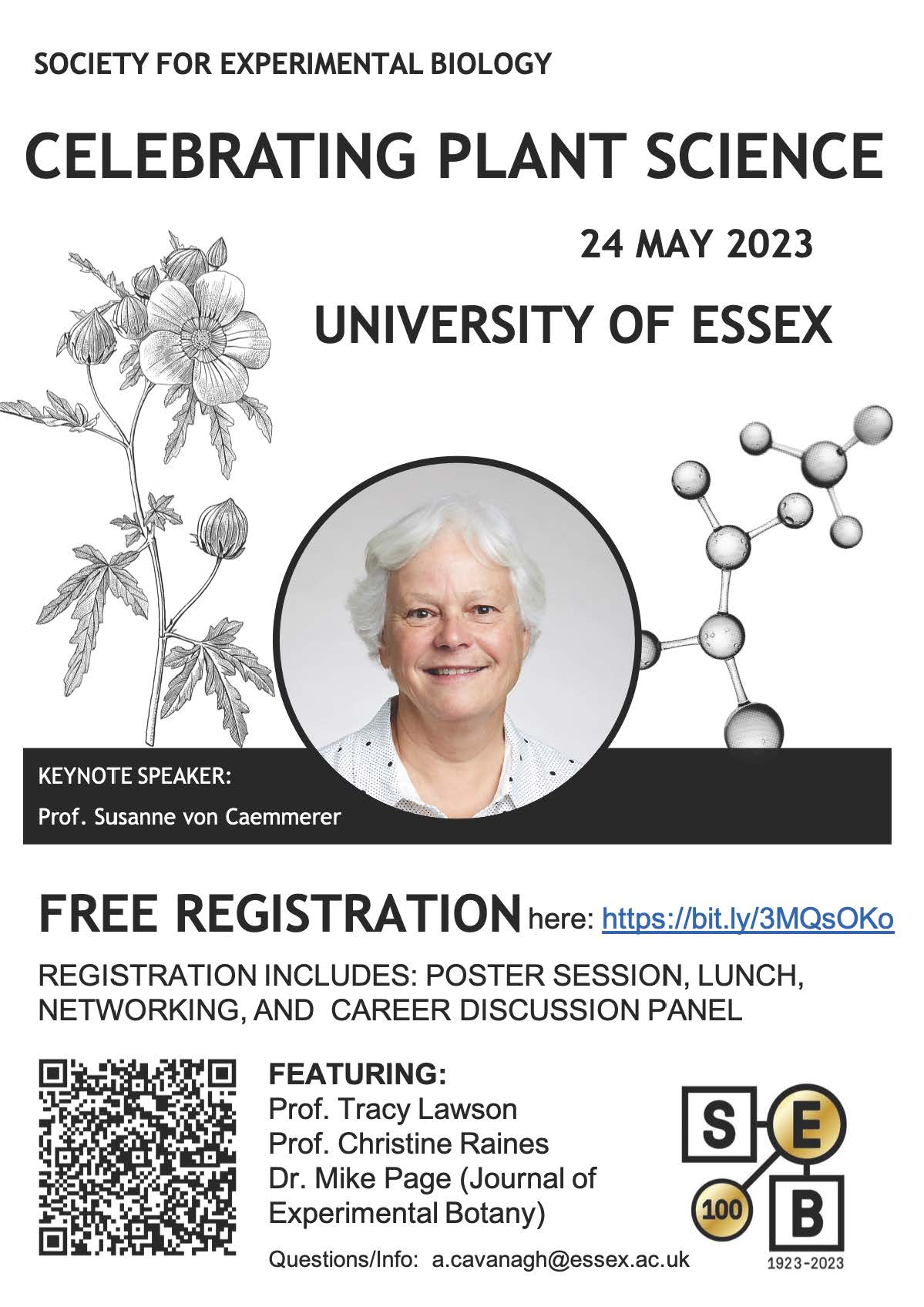 Additional SEB Events
In addition to this event, there are many other events and opportunities going on this year as part of the 100-year celebration including career and coffee webinars, adding content about their history during the Wiki Challenge, the upcoming Centenary Conference, and PEPG workshops.
Lawson is involved in organized the upcoming annual meeting/centenary conference and there are a number of presentations by current and former RIPE team members planned; including the distinguished Harold Woolhouse Plenary Lecture given by RIPE Deputy Director Lisa Ainsworth.
Cavanagh was also instrumental in organizing a Plant Environmental Physiology Group (PEPG) Field Techniques Workshop coming up this fall in Portugal. Registration is now open to all early career researchers who are interested in learning more about both the theory and practical application of major techniques in the industry.
---