21st Show: What does genetically modified mean?
---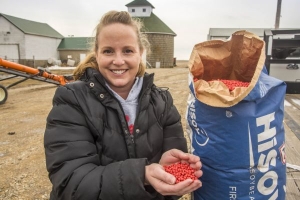 Earlier this summer, President Obama signed into law a nationwide GMO labeling bill. It will require all food products containing GMOs to include that information - although the details haven't been fully worked out yet.
Today, [the 21st Show] talked about GMOs, organic foods, and what those labels really mean. Is the debate really about genetically modified organisms or the stories we've attached to them?
[The 21st Show] talked with Nathanael Johnson, food reporter for Grist, a nonprofit online magazine that focuses on environmental news and commentary.
[The 21st Show] also learned about the effect eliminating GMOs would have on the environment, and talked about an up-and-coming technology for editing genes inside a plant that could, for example, produce higher yields. We were joined by Lynnicia Massenburg, a graduate student who uses that technique, known as Crispr/Cas9.
Read the study: Eliminating GMOs would take toll on environment, economies
---
By: Niala Boodhoo, Christine Herman, Phillip Kisubika and Sean Neumann | 21st Show
Go to original story
---