45 million dollars given to U of I research group
---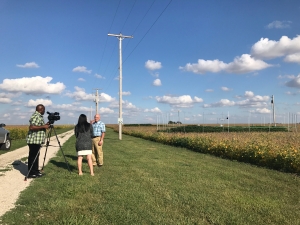 Researchers at the U of I are trying to end world hunger and they just got 45 million dollars to help them do it. [Watch the broadcast.]
The money will go to testing their proven methods on crops in areas across the world. The organization is called RIPE. It stands for "Realizing Increased Photosynthetic Efficiency" and it's team works to transform agriculture and help solve the global food shortage problem.
This money will help them do that. 25 million is coming from the Bill and Melinda gates foundation. The rest is from the Foundation for Food and Agricultural Research and the Department for International Development.
In the past five years they developed crop growth techniques that re-engineer photosynthesis in plant genes to make them grow bigger and yield 20-50 percent more.
"Cassava, which is really important in sub-Saharan Africa but isn't here, is not going to be picked up by one of the multinationals to improve it. And so we're going to have to take it further than we might with soybean or something like that. We would like to get our traits into this crop and do field testing in Africa."
But doing that is expensive. That's why this funding is so important. RIPE proved their concept on about a half acre of tobacco plants before they used in on other crops. If you're wondering what they do with all that tobacco, the government requires them to destroy it after they're done testing.
They came up with three effective methods to get a higher crop yield. They plan to start testing that in crops like soybeans and rice next year.
---
By: Jennifer Jensen | WCIA3 News
Go to original story
---