Did Illinois Just Unlock the Secret to Solving World Hunger?
---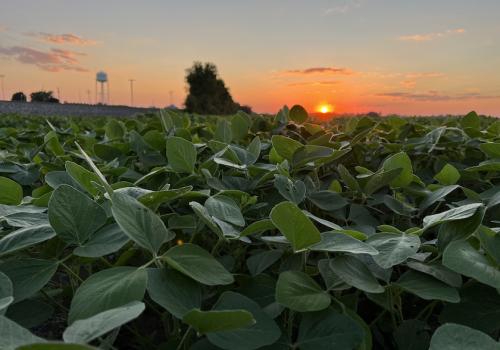 The fight to end world hunger continues around the globe. Ending hunger worldwide may sound like a pipe dream, but researchers at the University of Illinois are making great strides in turning that wish into a reality through the genetic engineering of plants.
The most recent report from the United Nations showed that in 2021, nearly 10% of the world population was hungry, and with global grain concerns with the crisis in Ukraine, those figures are expected to grow.
"Photosynthesis is something that has been studied for a long time, you know, and only now are we seeing that we can really still modify it and get increases in yield," says Amanda De Souza, RIPE project research scientist, University of Illinois.
RIPE at Work
Lead by University of Illinois researchers, the team is focused on a project called "Realizing Increased Photosynthetic Efficiency" or RIPE. The mission of RIPE is to end global hunger worldwide by improving the complex process of photosynthesis and the role it plays in crop production.
Through their efforts and nearly a decade of work, the team now has proof that improving photosynthesis in major crops just may be the key to growing yields around the globe.
"We have discovered three different ways in which we can enhance photosynthesis that are resulting in improved productivity in the field," says De Souza.
RIPE was formed in 2012 with a five-year, $25 million grant from the Bill and Melinda Gates Foundation. Since that time, the research effort has received additional grant money, including from the Foundation for Food and Agriculture Research.  
"First of all, (the goal is) to increase the ability of the plant to produce the chemical that captures carbon dioxide," says Stephen Long, RIPE director, University of Illinois. "The second one is that plants also absorb oxygen in photosynthesis at the same time as CO2. So that actually reduces the efficiency of photosynthesis. We've found a way to bypass that partially, so we get more efficiency."
Genetic Engineering as a Tool to Improve Photosynthesis 
The third piece is also where University of Illinois researchers have led the charge, thanks to the power of genetic engineering.
"Other people started to test which genes would be suitable to improve that step. And then we came up with three different genes, which are what we call the V, P and Z genes, which stand for the initials of the three different enzymes in the pigment cycle and in all the plants," says De Souza.
De Souza says the team then over-expressed those three genes, in an effort to improve photosynthesis.
"You're adding more protein of those three different enzymes that make the plant go faster or do faster with changes in fluctuations in light," says De Souza.
More than Just Soybeans 
Tobacco and soybeans have been the spotlight of the research so far, but now the team is digging into corn, rice, cowpea and cassava. 
"The fun thing is targeting those particular crops. They are very interested in cow pea and cassava for the Sub-Saharan Africa, and then also rice for Asia, and of course in the soybean and corn for everyone," adds Long.
Taking the Research Worldwide
The team has demonstrated it's possible to improve soybean productivity with these three genes, but there's still a lot of work left to be done to test and then introduce it around the world.
"Now, of course, we need to expand that research and do multi-location trials where we are going to test different environments and different locations and see if that is consistent across the states or across other countries as well," says Long.
"If that proves to be the case, then the Gates Foundation will also want to test this in African cultivars, Puerto Rico or a similar place. If that works, then the next step is deregulation. And that is quite a long process, as well," Long adds. "Then, of course, when you've completed deregulation, you've got to put this into the right background for the right geography and scale it up. So realistically, you're looking at 15 to 20 years."
While the findings could still be another two decades before they reach farmers' fields, the research is also uncovering a growing need: producing higher yields without consuming more land.
"It's also about using maybe less water per carbon that you assimilate, and we think that we can produce more in the same space of land, it is sustainable," says Long. "We are not expending more. We're not using more land for producing more."
The Illinois researchers know what's being uncovered could be a game changer for agriculture around the globe. The research has produced a rewarding finding, while also being rooted in a passion to answer a global need to end world hunger.
---
By: Tyne Morgan || AgWeb
Go to original story
---