November 21, 2019
Her Royal Highness, The Princess Royal, shines a light on women's empowerment and ending extreme poverty
---
Opportunity International welcomed Her Royal Highness, The Princess Royal, Princess Anne for a series of private events during a two-day visit to Chicago in support of the empowerment of women and girls in Africa. The Princess Royal has been a long-time patron of Opportunity International UK, supporting the organization's global initiatives to educate children, create sustainable livelihoods, and fight poverty around the world, according to a recent press release.
"When I visited Ghana with Opportunity in 2007 and 2017, I met people working tirelessly to put their great business ideas into action. But without resources and support, these hardworking women struggled to grow their businesses, earn stable incomes, and support their families," Her Royal Highness, The Princess Royal, Princess Anne said during her address to 140 guests during a private luncheon on Wednesday, November 20. "They understood what you and I also know to be true—that stable businesses provide reliable incomes and create jobs. With steady employment, individuals can improve their food security, access healthcare, educate their children, and stimulate the local economy."
The Princess Royal has been a patron of Opportunity, a global organization that designs, delivers, and scales innovative financial solutions to transform the lives of families living in extreme poverty, for 21 years. In addition to her visits to Ghana, The Princess Royal has travelled to see Opportunity's programs in Mozambique, Peru, and the Philippines.
Opportunity Chief Executive Officer Atul Tandon underscored The Princess Royal's remarks about the importance of investing in women and girls. "Put most simply, one of the biggest challenges for women and girls at the bottom of the economic pyramid is that they lack opportunity," Tandon said. "The United Nations reports that investing in programs to improve income-generating activities for women can return $7 for every dollar spent. The impact these women and girls are capable of is incredible."
In addition to the luncheon at the renowned Casino Club, The Princess Royal hosted a reception and women's breakfast at the Waldorf Astoria for fellow Opportunity patrons.
Also on Wednesday, the British Consulate-General Chicago hosted The Princess Royal for an afternoon reception at their residence with elected-officials, academics, and non-profit and business leaders. Chicago's First Lady, Amy Eshleman, was in attendance and spoke with The Princess Royal as she made her way around small discussion groups at the event. The British Consulate's Acting Consul General, Maria Rennie, addressed guests, "The UK is proud to champion women and girls' empowerment, and many other issues, alongside our American partners—from government to the non-profit community. In Chicago, our Consulate has worked hand in hand with our American friends across the Midwest since 1855, and I'm honoured to carry that tradition forward with all of you."
This press release was provided by British Consulate-General Chicago.
---
Her Royal Highness, The Princess Royal, and RIPE Director discuss agricultural developments
Stephen Long, an Ikenberry Endowed University Chair at the University of Illinois, was also invited to meet The Princess Royal at the reception on November 21 hosted by the British Consulate-General Chicago. Long represented Realizing Increased Photosynthetic Efficiency (RIPE), an international research project that aims to create productive crops for farmers across the globe, particularly in Africa who are oftentimes women. Long is the founding director of RIPE, which began in 2012.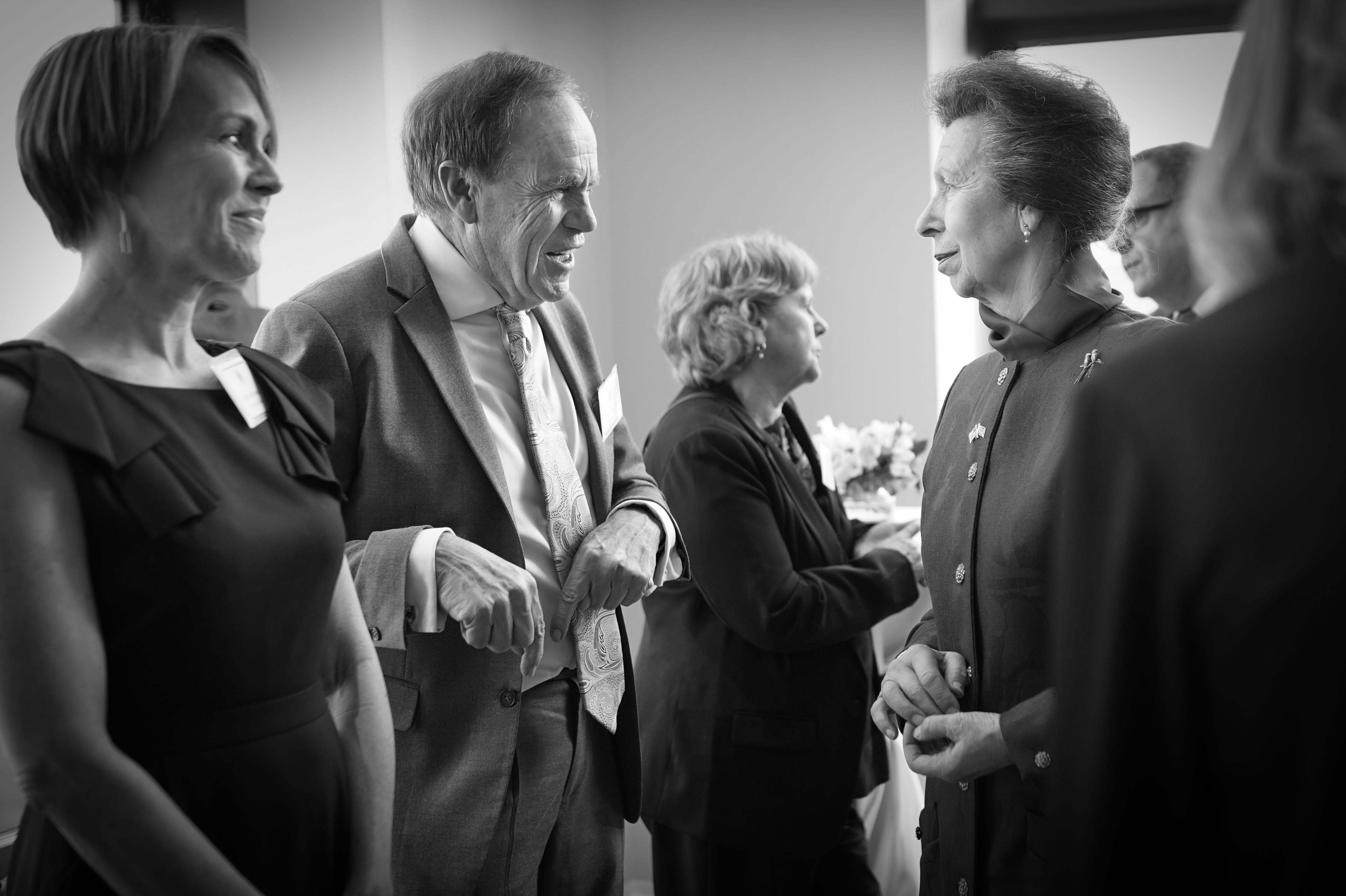 The Princess Royal and Long have a common interest in agriculture and the plight of women smallholders in sub-Saharan Africa. The two discussed several developments that could impact food security, including work that The Princess Royal is following at Harper Adams University as well as the RIPE project's support from the Bill & Melinda Gates Foundation, the U.S. Foundation for Food and Agriculture Research (FFAR), and the U.K. Government's Department for International Development (DFID).
"We have already seen a Green Revolution that brought new technologies to farmers to boost crop production to new heights—now the time has come to do so again, and ensure that no farmer is left behind due to their citizenry, geography, or gender," said Long, who is a dual citizen of the U.S. and U.K. and a Fellow of the Royal Society. "With support from American and British citizens, our international team is tapping into the sun's potential to help farmers feed their families and communities."
This addendum article was written by the RIPE Project.
---
ABOUT THE RIPE PROJECT
Realizing Increased Photosynthetic Efficiency (RIPE) is developing staple food crops that turn the sun's energy into food more efficiently to sustainably increase worldwide food production, with support from the Bill & Melinda Gates Foundation, the U.S. Foundation for Food and Agriculture Research, and the U.K. Government's Department for International Development.
ABOUT OPPORTUNITY INTERNATIONAL
Opportunity International is a global non-profit committed to ending extreme poverty and promoting quality education for families in need. Since 1971, Opportunity has helped millions of families work their way out of poverty by providing financial resources, training, and delivering ongoing support to start small businesses, earn living wages, and feed their families. The organization provides loans to families seeking tuition and educators who want to improve local schools to get more children into better quality schools. In 2018, Opportunity International issued $1.9 billion in loans, reaching nearly 10 million clients in 24 countries, and helped fund 6,500 schools serving 2 million children. Discover more at opportunity.org or join the conversation on Facebook and Twitter.
ABOUT THE BRITISH CONSULATE-GENERAL CHICAGO
The British Consulate-General Chicago works to promote business, economic, security and political ties across 14-states of the Midwestern and Central US. The Consulate's work is supported by two UK Government Offices in Denver and Minneapolis/St. Paul. The Consulate also provide consular assistance to British nationals in the region.
Go to original story
---