August 6, 2014
Illinois university rice plot could help yields globally
---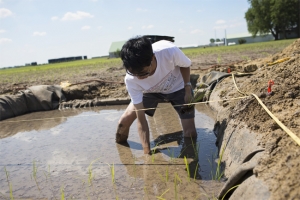 To date, there has been no reason to use the words rice paddies and Illinois in the same sentence, but researchers at the University of Illinois have put the two together with hopes of making an impact on global supplies of the popular grain.
Thanks in large part to a $25 million grant from the Bill and Melinda Gates Foundation, Illinois and visiting researchers took a dozer to part of the U of I South Farms complex earlier this summer and built a new rice paddy, which is now home to dozens of various strains – and doing well.
Researchers at Kyoto University in Japan also installed a new test paddy on the same day that Illinois built its paddy; both will be used to find clues about which factors help different rice plants convert the sun's energy into food, or photosynthetic performance. They are part of the Realizing Increased Photosynthetic Efficiency (RIPE) project, with its goal of increasing the productivity of grain crops such as rice across the globe.
"Rice is the number one source of calories for humans, worldwide, and increasingly we are not producing enough," said RIPE Director Stephen Long, a plant biology and crop sciences professor who directs RIPE for the U of I's Carl R. Woese Institute for Genomic Biology. "This paddy is one of the first steps of a multinational attempt to achieve new innovations in improving rice production."
Yu Tanaka, a Kyoto professor who is leading the study at Illinois, planted several varieties of wild rice and some with mutant lines, all of which have different photosynthesis characteristics. Those that perform well in Illinois conditions could provide the basis for increased production in similar conditions around the world, such as in northern Italy and northern Japan, where Kyoto is located.
"When we consider actual production, or the crops' physiological responses and performance, it is really important that we grow the rice in the fields," Tanaka said. "Without this feasibility experiment, we wouldn't have a chance to grow the rice in a natural environment in Illinois, which would limit the RIPE project."
Previous research that included mutant lines of rice already has shown that they can have a higher tolerance to drought-like conditions. "When rice is grown in a paddy field, there is definitely no shortage of water," Tanaka said. "But in many parts of the world, rice is grown on upland fields. For those regions, drought tolerance would be critical. We are expecting to see these lines better conserve water throughout this summer."
Tanaka will oversee the five-year project at Illinois. The United States is not a huge producer of rice. Globally, the U.S. ranks ninth, far behind worldwide leaders China, India and Indonesia. The top rice-producing states as of 2013, according to USDA, were Arkansas, California, Louisiana, Mississippi, Missouri and Texas.
---
By: Steve Binder | Farm World
Go to original story
---