Stephen Long invested as the Stanley O. Ikenberry Chair Professor of Plant Biology and Crop Sciences
---
University of Illinois Provost Andreas C. Cangellaris held the investiture of Stephen P. Long as the Stanley O. Ikenberry Chair Professor of Plant Biology and Crop Sciences on Jan. 27 at the Spurlock Museum. 
"Steve has led the world in advancing our knowledge of the mechanisms of photosynthesis, the process that starts with a photon of light and ends up with a bite of food, especially towards the goal of increasing the efficiency of photosynthesis to help feed the world's burgeoning population," said Director of the Carl R. Woese Institute for Genomic Biology Gene Robinson in his remarks.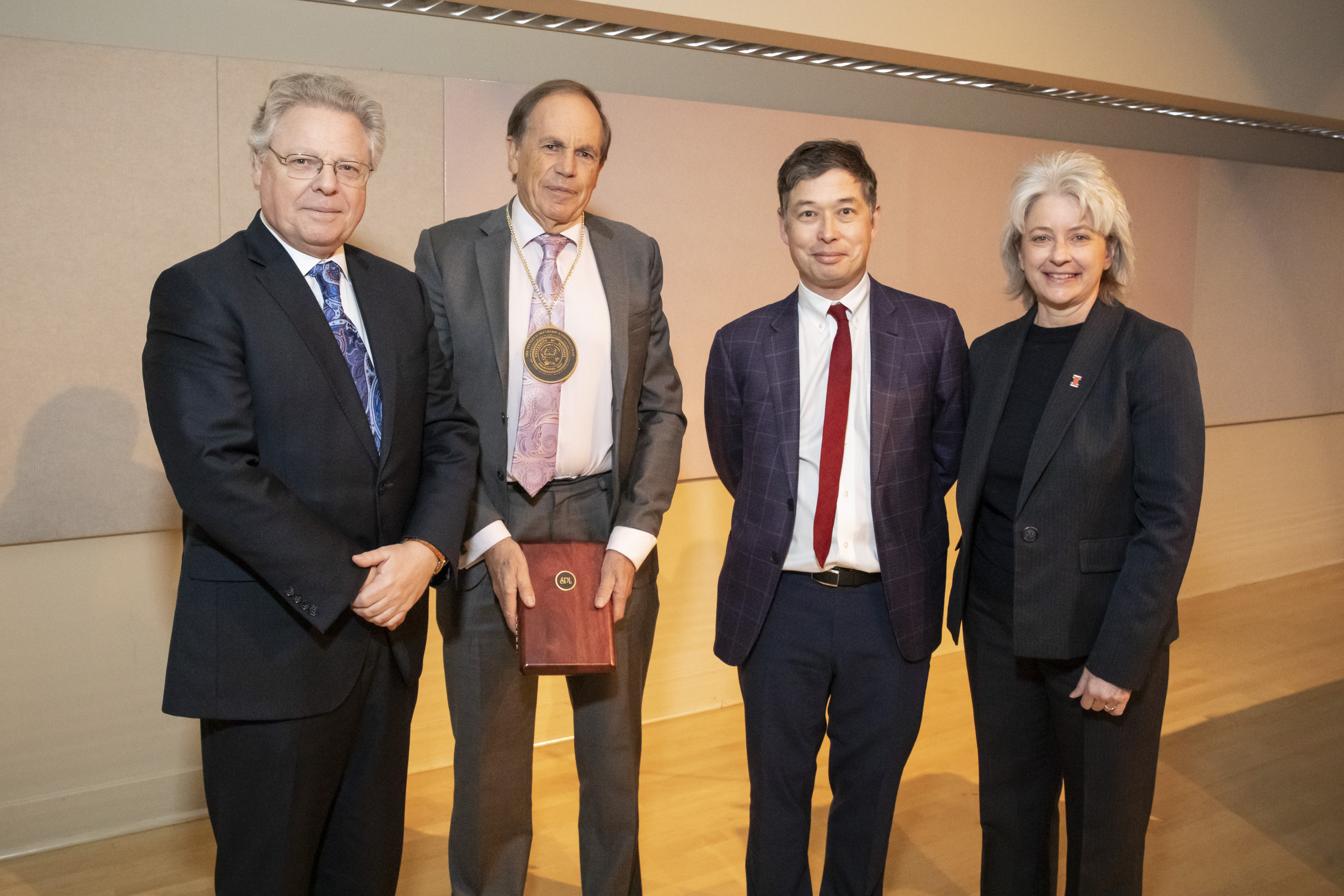 Long joined the University of Illinois in 1999, where he established an internationally acclaimed laboratory dedicated to using computational and experimental approaches to understand all 170 steps of photosynthesis. Since then, Long has worked tirelessly to build connections worldwide and across generations of graduate students, postdoctoral researchers, and faculty to transform our knowledge of photosynthesis into higher-yielding crops and address the effects of climate change on crop productivity.
"If you speak with anyone who has had the fortune to work with Steve, like many students, postdocs, undergraduate and graduate students, and colleagues have, you'll be rewarded with numerous tales of his warm personality, depth of character, and dedicated mentoring," Robinson said.
Among many contributions to the university and his field, Long helped establish the Energy Farm and the SoyFACE research facility.
"SoyFACE embodies our university's land grant mission, with a global impact, as it seeks to measure the impact of atmospheric change on the productivity of crops we grow in the Midwest," said the College of Liberal Arts and Sciences Associate Dean Matthew Ando. "When you're mixed up in your daily struggles, new innovations like SoyFACE remind you that people here really are making an incredible difference."
Today Long leads the international research project Realizing Increased Photosynthetic Efficiency (RIPE) that have demonstrated technologies that promise to substantially increase the productivity of staple food crops under his leadership. The RIPE project is supported by the Bill & Melinda Gates Foundation, the U.S. Foundation for Food and Agriculture Research, and the U.K. Government's Department for International Development. 
"Through the RIPE project, Professor Long has been tackling one of society's most pressing issues: food insecurity," Provost Cangellaris said. "We like to say that at Illinois our faculty are laser-focused on conducting research that advances society, and in this case, we see that as personified by a visionary leader, who is not only at the bleeding edge of solving this challenge but also inspiring many others to join him."
Long's work has been recognized by many honors, including the Charles F. Kettering Award for Excellence in Photosynthesis Research from the American Society of Plant Biologists and the Marsh Award for Climate Change Research from the British Ecological Society. He is consistently one of the university's most highly cited scientists. He also has the "very rare double honor" of being a fellow of the Royal Society and the U.S. National Academy of Sciences, Robinson said. 
"It gives me special pleasure to know that a person of your stature who has committed their career to science, focused on understanding the responses of plants to global atmospheric and climate change, will occupy the Ikenberry Chair," said Professor Emeritus Stanley Ikenberry in remarks read by Robinson. "No mission could be more relevant to the time in which we live and the challenges facing humankind going forward."
Dean Kim Kidwell from the College of Agriculture, Consumer, and Environmental Sciences highlighted Long's outreach efforts in her remarks. "Many articles have been written about the work that you and your team have done in the popular press. With all the attention that it's brought to science—you've made people care. The phrase 'hacking photosynthesis' is something cool that people want to understand, which is really quite remarkable."
Long was named an Ikenberry Endowed Chair in Jan. 2018; the honor took effect on Aug. 16, 2018, extends for five years, and may be renewed. This chair provides a salary stipend and financial support for his research. The endowment—named for the 14th president of the University of Illinois—is made possible by a gift from Geraldine B. Cooke and other sources.
---
Realizing Increased Photosynthetic Efficiency (RIPE) aims to improve photosynthesis to equip farmers with higher-yielding crops to ensure everyone has enough food to lead a healthy, productive life. This international research project is sponsored by the Bill & Melinda Gates Foundation, the U.S. Foundation for Food and Agriculture Research, and the U.K. Government's Department for International Development. 
RIPE is led by the University of Illinois in partnership with The Australian National University, Chinese Academy of Sciences, Commonwealth Scientific and Industrial Research Organisation, Lancaster University, Louisiana State University, University of California, Berkeley, University of Cambridge, University of Essex, and U.S. Department of Agriculture, Agricultural Research Service.
---
By: Claire Benjamin | RIPE Communications Coordinator
Go to original story
---