One robot is helping feed the future
---
Two research projects at the University of Illinois are coming together to benefit agriculture and help ensure global food security.
The University of Illinois is home to the robot TerraSentia, which was developed to transform the world of data collection in agricultural fields. Now, this robot is taking a new journey through the research plots of the project Realizing Increased Photosynthetic Efficiency (RIPE) to help identify top-performing traits that could boost food crop yields.
RIPE is supported by the Gates Foundation, the U.S. Foundation for Food and Agriculture Research (FFAR), and the U.K. Government's Department for International Development (DFID) to address the global food challenge by engineering plants to increase their photosynthetic efficiency to help farmers worldwide produce higher-yielding crops.
"Photosynthesis is the process where plants convert sunlight, carbon dioxide, and water into carbohydrates," said RIPE Director Stephen Long, Ikenberry Endowed University Chair of Plant Biology and Crop Sciences at Illinois. "Directly or indirectly this process is the source of all of our food."
Initially, TerraSentia was developed with support from the Advanced Research Projects Agency-Energy (ARPA-E) to phenotype bioenergy crops, which involves measuring plant traits to identify desirable genes for selective breeding. The research project is called TERRA-MEPP, which stands for Transportation Energy Resource from Renewable Agriculture—Mobile Energy-Crop Phenotyping.
Now, these two projects are coming together to the benefit of farmers.
"With its compact and autonomous build, TerraSentia goes under crop canopies and can see the whole plant," said Girish Chowdhary, an assistant professor of field robotics in the Department of Agricultural and Biological Engineering at Illinois. "In the past, a lack of automation for measuring plant traits has been a bottleneck to progress."
"While drones are commonly used to view crops, they can only see the crop surface—we needed the means to measure the plant from the ground surface up," said Long, also the director of the TERRA-MEPP project. "TerraSentia has provided us with this capability and can also detect many pathological conditions that are hidden when you view the crop from above."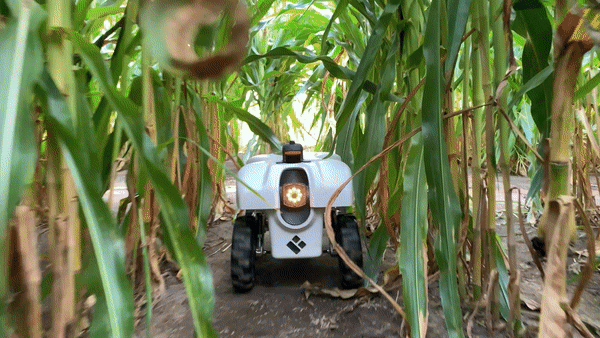 For the RIPE project, TerraSentia will be used to phenotype plants that are being engineered for more efficient photosynthesis to increase the production of staple food crops. TerraSentia will enable RIPE researchers to identify the top-performing plants more quickly and accurately than they could by hand, accelerating improvement. 
Both projects stand to benefit from this collaboration.
"TerraSentia is meant to be for general use by plant breeders and farmers—anyone with a field they need to monitor," said Chowdhary, who is also a faculty member at the Coordinated Science Laboratory at Illinois. "By helping RIPE, our robot will be able to 'learn' how to evaluate different crops. The RIPE project will learn more about the biology of these crops using TerraSentia to phenotyping these plants."
"Previously, equipment for phenotyping crop fields could cost millions while lacking portability," Long said. "TerraSentia is a fraction of these costs and can be easily transported, promising to make phenotyping and robotic crop monitoring available to many."
Starting in 2018, EarthSense—a University of Illinois start-up company—has made this technology available to other public-sector institutions, including Cornell University, Colorado State University, University of Wisconsin, Michigan State University, Texas A&M University. Leading global private sector agricultural companies are also evaluating the TerraSentia to accelerate their crop breeding and product development programs.  
---
Realizing Increased Photosynthetic Efficiency (RIPE) is engineering staple food crops to more efficiently turn the sun's energy into food to sustainably increase worldwide food productivity, with support from the Bill & Melinda Gates Foundation, the U.S. Foundation for Food and Agriculture Research, and the U.K. Government's Department for International Development. 
TERRA-MEPP (Mobile Energy-Crop Phenotyping Platform) is a research project that is developing a low-cost phenotyping robot to identify top-performing crops. TERRA-MEPP is led by the University of Illinois in partnership with Cornell University and Signetron Inc. and is supported by the Advanced Research Projects Agency-Energy(ARPA-E).
---
By: Monica Kennedy | RIPE Communications Intern
Go to original story
---
---
RELATED RIPE OBJECTIVES
Advancing Translation