Tragedies affect the RIPE team at ANU
---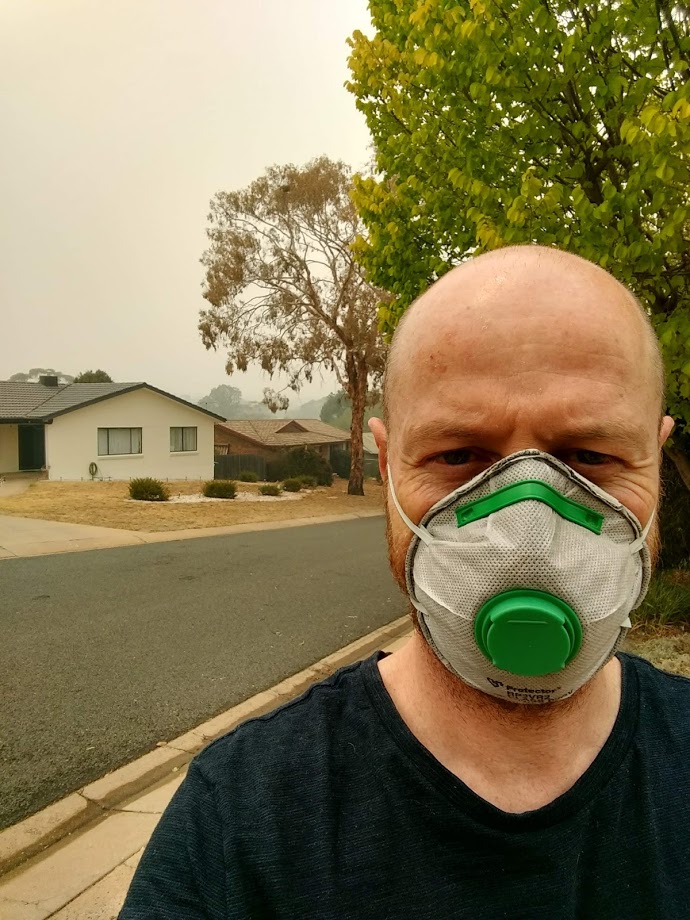 The end of 2019 and the beginning of 2020 have been an extreme few months for the RIPE project team members at The Australian National University (ANU). Fires in the region began in late November 2019, and Canberra has been shrouded in smoke, with few days of respite, ever since. Luckily, the fires have not impacted Canberra or ANU directly, but the university was closed early in the new year due to the extremely poor air quality. At that time, Canberra was listed as the most polluted city in the world for a week or two with air quality index (AQI) values reaching above 5,000 in some areas; 200 is considered 'hazardous for all people.'
Fires between Canberra and the New South Wales south coast were of great concern, trapping many Canberrans and other holidaymakers for several days in the fire-affected areas. Canberra's location also means that many staff and students have extended family living in fire-affected parts of New South Wales, and this has caused considerable stress and anxiety.
Approximately 2,500 houses have been destroyed in New South Wales alone this fire season, which lasts from December to February. The fires, burning an estimated 18.6 million hectares, have caused the deaths of 32 people across the country and an estimated 1.25 billion animals. (Check out a visual guide to the bushfire crisis from BBC.)
---
Fire hot spots in Australia, Jan. 5 - 6, 2020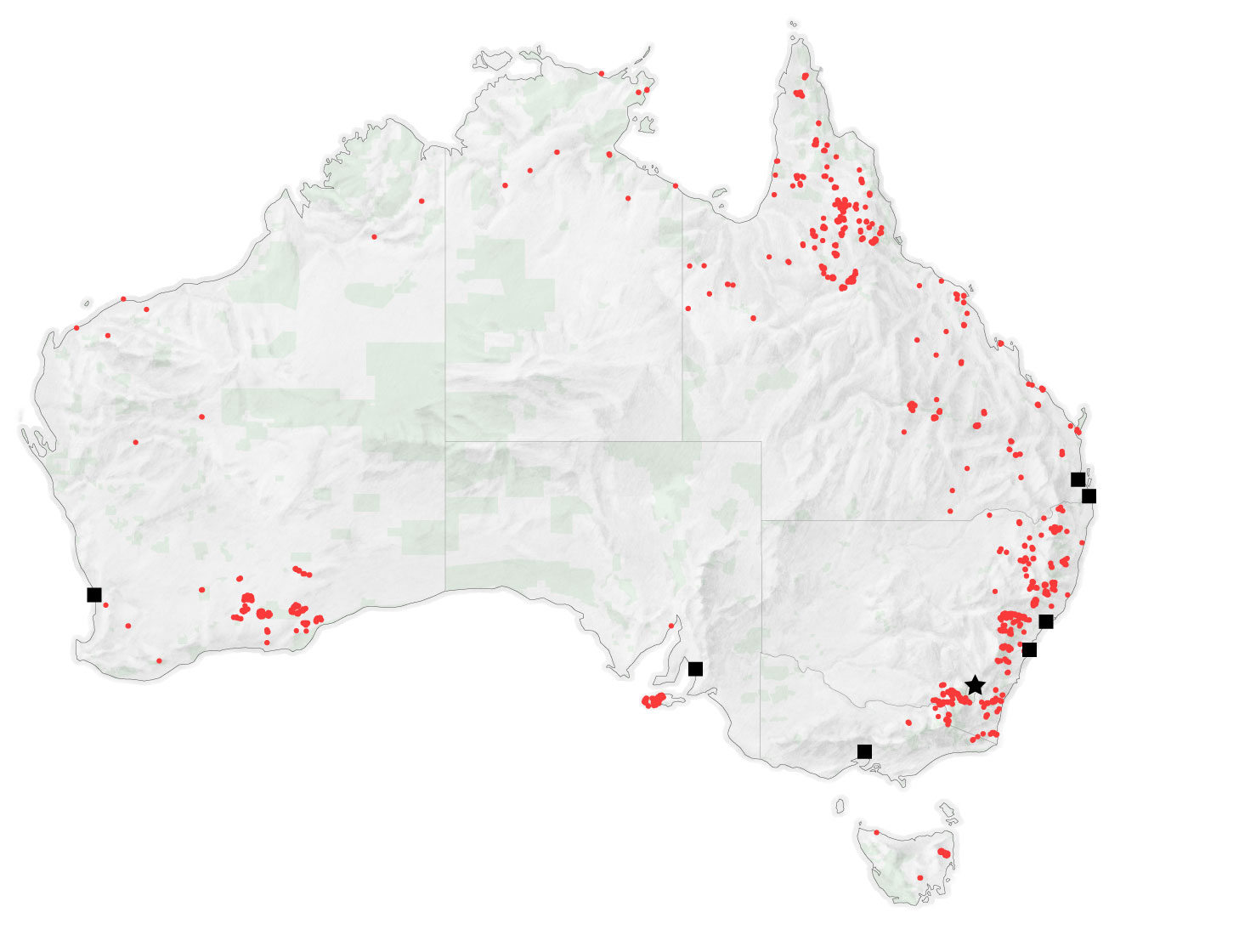 ---
One of the few days clear of smoke over the summer quickly changed when long-awaited rain came in the form of a brief, but devastating, hail storm. Unfortunately for ANU, the university and suburbs to the northwest and southeast were hit very hard, resulting in significant damage to infrastructure. The glasshouse complexes both here at ANU and across the road at CSIRO were essentially destroyed, along with their contents in most cases.
This event is having an ongoing negative impact on any plant research requiring growth space. As all physical containment has been breached, we are unable to grow any genetically modified plants in external growth facilities until these facilities are repaired or replaced. The labs of both Dean Price and Susanne von Caemmerer were affected by the damage. Several RIPE glasshouse experiments were lost with plants destroyed. In many cases, the seed could, fortunately, be collected, but many planned experiments cannot go ahead in the short-term. Susanne's TDL is housed in a room connected to one of the damaged glasshouses and is no longer usable until significant repairs are made.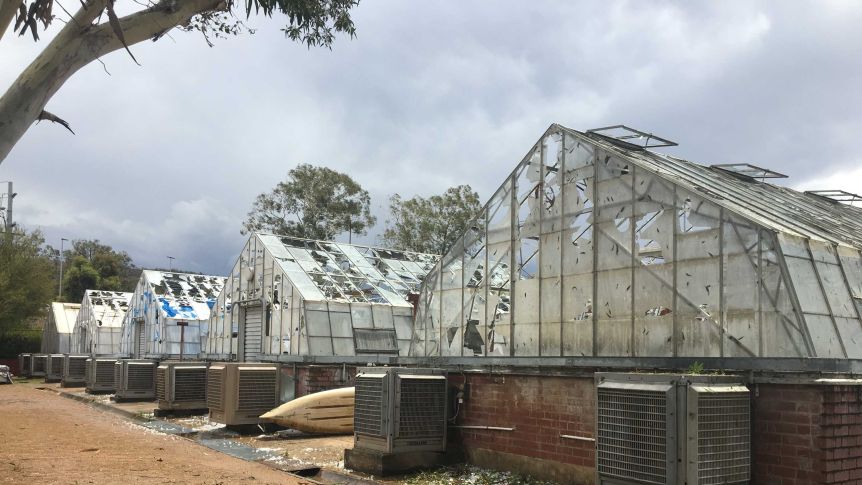 Labs are generally ok, although damage to rooftop infrastructure has meant that fume hoods are essentially out of action until repair work can be carried out. We expect this to take some time as the entire campus is in similar or worse condition. Indeed, badly damaged cars are still being towed off campus several weeks after the event. This major disruption will result in significant delays with many experiments as any space that becomes available will need to be prioritised.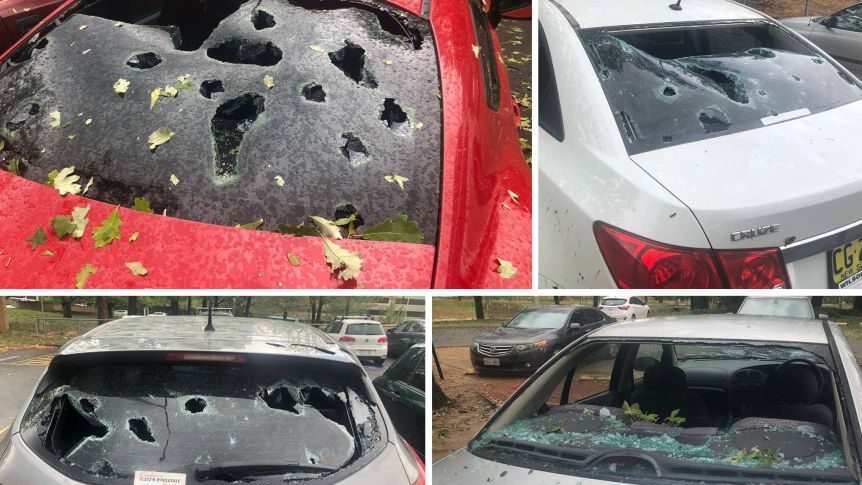 Since the hail storm, Canberra has seen a major fire threatening its southern suburbs as much of the Namadji National Park burned. As much as 25 percent of the Australian Capital Territory's area has been burned in this event. We are still affected by smoke from the fire, which is expected to continue until significant rain comes (and we are luckily expecting the rain to begin this evening… with the hope that it's just rain this time!). The ongoing smoke is, of course, becoming a major problem for some, and P2 masks are now part of Canberra fashion (as seen in the photo above).
While we are taking these ongoing events in our stride, it hasn't been much of a summer to remember. We are trying to stay positive about the coming year as students begin to arrive for the first semester. However, to this point, many staff and students from China have had difficulty getting back to Australia for the beginning of the year as the coronavirus continues. Fortunately, no ANU RIPE staff or students are affected at this time.
---
By: Ben Long || The Australian National University 
---