Liana Acevedo-Siaca: Utilizing rice to achieve food security
---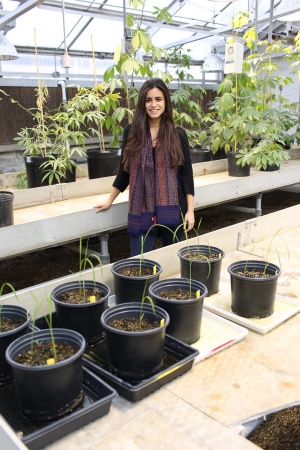 To Liana Acevedo-Siaca, Oryza sativa (cultivated rice) is key to improve the quality of life for many others. She has been researching photosynthetic diversity and efficiency in O. sativa in order to find ways to sustainably produce rice in the future.
She is currently a graduate student in the Department of Crop Sciences at the University of Illinois working with graduate advisor Stephen Long, Gutgsell Endowed Professor of Plant Biology and Crop Sciences on a research project called Realizing Increased Photosynthetic Efficiency (RIPE). RIPE unites scientists to increase the yield of crops, including rice, that play a substantial role in feeding developing countries.
The main goals of the RIPE project are to increase food security while also reducing the environmental impact of crop production by increasing the efficiency of photosynthesis, the process of turning light energy into energy for the plant. Increasing photosynthetic efficiency in plants can lead to higher biomass production and higher yields while also reducing nutrient and water inputs needed for cultivation.With RIPE there is a great opportunity to achieve higher yields on less land to help achieve worldwide food security.
Acevedo-Siaca has made progress through RIPE, but will soon be taking her research to the International Rice Research Institute (IRRI) as a U.S. Borlaug Fellow in Global Food Security. IRRI is based out of Los Baños, Philippines, and is part of a larger group of research centers located all over the world. IRRI has been at the forefront of rice research since its founding in 1959.
With a continuous interest in research related to food security outside of the U.S., Acevedo-Siaca's fellowship with IRRI is a perfect fit. She is passionate about understanding photosynthesis in rice, which does not grow well in Central Illinois.
Going to IRRI will give Acevedo-Siaca the freedom to cultivate rice in more ideal conditions and provide her with access to knowledge from leaders in rice research. She believes that going to IRRI will help her grasp a better understanding of her field of study while also fostering relationships with scientists from all over the world.
By starting this fellowship and continuing her research with rice at IRRI, Acevedo-Siaca is ready to take the next step towards realizing a more sustainable and food-secure world through the promise of agriculture.
An excerpt from this article was featured by the Office of International Programs.
---
By: Mariah Johnson || RIPE Project 
---